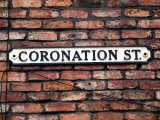 The BBC has apparently accused ITV1 of fixing
Coronation Street
's 'Most Popular Serial Drama'
win
at the National Television Awards.
Following an introduction from Corrie veteran William Roach, awards producers screened a three-minute tribute to mark the soap's 50th anniversary while portions of the
7.5 million audience
were still voting,
The Mirror
reports.
Bosses at BBC One's
EastEnders
, Channel 4's
Hollyoaks
and ITV1's
Emmerdale
are reportedly now enraged that their shows were not given such exposure, despite
EastEnders
' 25th birthday occurring next month.
One BBC insider said: "We're furious. The odds seemed too heavily stacked in the Street's favour this year. Its showreel was a pretty blatant advert right in the middle of voting.
"We've an anniversary but didn't get a showreel. It wasn't a fair playing field for the other soaps. Even
Emmerdale
cast members are angry."
It is thought that the other soaps are considering asking Ofcom to publicise the ceremony's voting figures and patterns to see if they were influenced.
The source added: "What would have happened if this was
EastEnders
and a plug like that was on a BBC awards show? This can't be allowed to happen again. It's as though they fixed it for Corrie. We'd like to see voting figures to see if the showreel changed things."
An ITV1 spokesperson branded the dispute "sour grapes", before adding: "Fans of all nominated soaps were given ample opportunity to vote... in the two-week voting window and during the programme."
Ofcom is believed to have received complaints from viewers and may probe the NTAs to see if it breached any fairness rules.