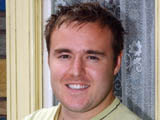 Coronation Street
star
Alan Halsall
has admitted that he does not receive much attention from the soap's female viewers.
The 27-year-old, who plays Weatherfield mechanic Tyrone Dobbs, revealed that most of his fans are older women with maternal instincts.
Speaking to
The Mirror
, Halsall confirmed: "I don't really get chatted up. Instead, I get old grandmas who just want to mother me and take me home. And because Tyrone is always eating, they all say, 'Come to my house, I'll cook for you'."
The actor added that he is sometimes approached by girls on nights out, but only because they want to meet his co-star Ryan Thomas, who plays builder Jason Grimshaw.
He explained: "Girls generally come up and say, 'Is Jason coming?' I think most girls would like to have Tyrone as a friend rather than a husband or boyfriend. But I'm happy with that."
While Tyrone has love cheat Molly Dobbs (Vicky Binns) as his wife, Halsall is happily
married
to his former show colleague Lucy-Jo Hudson, who portrayed killer Katy Harris.
"I was ecstatic to be involved in a Corrie wedding, but absolutely nothing compares to the day I got married for real," he said. "It was by far the best day of my life and I can't imagine what else would beat it."