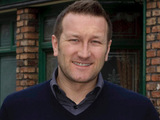 Phil Collinson
has revealed that there will be more "surprising departures" from
Coronation Street
this year.
Collinson, who took over the reigns at the ITV soap earlier this year, told the
Manchester Evening News
that reports of
rows
with the cast were "nonsense".
He denied that he was 'polishing up his hatchet' when he landed the job, despite recent announcements that cast members including
Jack Duckworth
(Bill Tarmey), the
Peacocks
(Steven Arnold and Julia Haworth) and
Molly Dobbs
(Vicky Binns) among
others
would leave the show.
"The idea that I came in with some sort of manifesto to shock is nonsense," he said. "I'm very aware it's people's jobs, they've been in the show a long time, but the decisions don't just come from me."
He continued: "I steer it if you like, I'm the man at the tiller, but there are 18 writers on the show and every week we debate where the storyline is going to go, and we reach these conclusions together. It wouldn't be appropriate for me to come in and say, 'Get rid of this person'."
Collinson, who will be at the helm as the Weatherfield soap celebrates its 50th anniversary, added that the cast and crew had been "wonderfully welcoming".
He said: "Most of what people will have read in the tabloids about my confrontations with people in the show, or that I'm polishing up my hatchet, is absolute nonsense.
"I get on really well with the cast and they've all been wonderfully welcoming. There really haven't been any confrontations. They all realise they are jobbing actors and that being on Corrie isn't forever - nothing is."
He continued: "Characters reach a point where there's nothing left for them, or even the actors themselves, like Vicky Entwistle most recently, who decide they want to do something different.
"I've been a producer for 13 years now, but this is the first time I've come in for such personal criticism."
As rumours circulate over who will die in a
tram crash
later this year, Collinson teased that viewers could expect anyone to perish in the disaster.
"Having said that, it's absolutely true that there will be some surprising departures come the winter," he confessed. "Because soap is like life, things change, things get shaken up, and people do learn that dramatic events do cause people to assess their lives."
> Corrie legend to die in tram disaster?