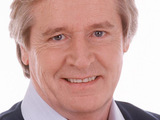 Bill Roache
has admitted that he was worried about the
Corrie!
stage play.
The two-hour show, written by the soap's long-term scriptwriter Jonathan Harvey, opened in Manchester last night.
The actor, who plays Ken Barlow in the soap, told
The Sun
: "I was worried I wasn't going to like the play as
Coronation Street
is such a great institution and so well loved that I knew it was going to be a huge task to take it to the stage."
The show aims to cover many of the drama's 50 years' worth of plots and characters, a feat Roache admitted that he was concerned about.
"I also know it's difficult for so few actors to pull off so many parts. You have to convince the audience you're one character and then be another five seconds later," he said. "I was anxious as to how the audience would take to different actors playing such well-loved characters."
However, after watching the performance he was full of praise for the "hilarious rollercoaster".
"It was a bit weird seeing Ken being played by someone else," he said. "But I'm not jealous. Simon Chadwick has made him a bit funnier - Ken was always a straight character. He gets laughs here but he's still the charming womaniser."
Among the plots included are Ken's affairs, Richard Hillman's murders and Deirdre's jail sentence.
Roache added: "As well as some humour, there are poignant moments - Blanche Hunt trying to get into heaven, Mike Baldwin's death in my arms (which felt like it was yesterday) and Elsie Tanner being sad over her love life.
"There are also some truly magical and bizarre sights such as Blanche tap-dancing, Gail and Richard Hillman driving a comedy car into the canal and Ena gossiping in Heaven."
The show runs at The Lowry theatre in Salford until August 25.
> 'Corrie!' play to open with Blanche