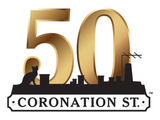 Coronation Street
producer
Phil Collinson
has said that the show's 50th anniversary week will be full of "absolutely unmissable drama".
Speaking to
The Daily Star
, Collinson hinted at the scale of the plans to mark the birth of the
world's longest-running TV soap opera
.
He said: "It's a week of television that people will remember forever. A week full of big ideas, big ambitions and absolutely unmissable drama. But this week does have to be special.
"How do we top what we've done in the past? Well, with a tram crash, a death, a wedding, another death, a birth, a murder, a fire and another death."
He added: "Yes, all of that in one week! I was lucky to have been given some extra money for the anniversary week.
"I'm a little terrified about the live episode but with plenty of rehearsals I'm sure it will be fine."
Collinson said of the plans for a
tram crash
on the cobbles: "The tram crash will cut through the lives of every resident on the Street. It's the most ambitious week of episodes this soap has ever seen."
It was reported
earlier
this week that a Weatherfield resident may take advantage of the tram crash carnage to cover-up a murder.