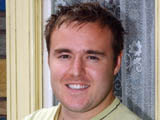 Coronation Street
star
Alan Halsall
has become the victim of a Facebook fraudster who stole his identity.
The actor, who plays Tyrone Dobbs in the soap, contacted the social networking site to alert them to a fake profile set up in his name by an unknown individual.
According to
The Mirror
, the trickster had been posting messages about the star's private life and spoiling future plot lines to the 550 friends they had so far notched up.
Halsall's
wife
Lucy Jo Hudson, who starred as Katy Harris in
Coronation Street
between 2002 and 2005, later took to Twitter to decry the impostor's actions.
She wrote: "What freak would do this? Clearly he has no life. All Al's old schoolmates think they're talking to him. He's just been making stuff up. It's quite disturbing."