The Underworld girls are left spooked in next week's episodes of
Coronation Street
when some strange discoveries are made at the factory.
The mysterious new storyline begins when Eddie finds a bouquet of flowers on the doorstep of the building and steals them as a gift for Anna.
At first, Anna is thrilled by Eddie's romantic gesture - but when she discovers an accompanying card containing the message "Rest in peace", it's clear that all is not as it seems and he's forced to come clean.
When word gets back to the factory about what has taken place, everyone gossips that the flowers must have been meant for Tony - but why somebody would want to send them out of the blue is unclear.
Later in the week, events take another sinister turn when Fiz and Julie find a C-shaped wreath on the steps of Underworld. When news of the latest discovery spreads, the general consensus is that it's a sick joke intended to spook Carla - and everyone can't help but be slightly disturbed at what's going on.
The only person with a different interpretation of events is troubled John Stape, who silently fears that someone out there must know about the fate of Colin Fishwick…
Here,
DS
takes an in-pictures look at the moment that Fiz and Julie make their discovery.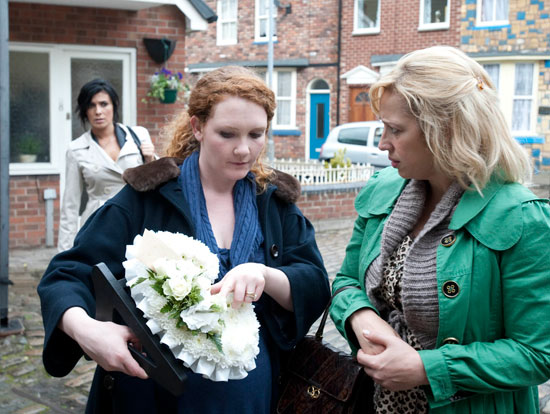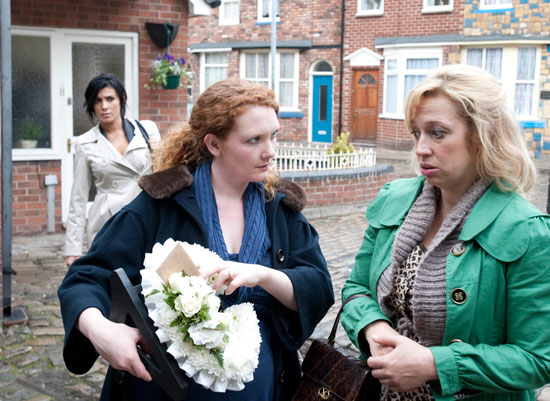 > Click here to read full spoilers for next week's Coronation Street episodes