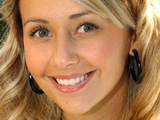 Samia Smith
has admitted that she would like to her
Coronation Street
alter-ego find happiness.
Smith, who plays unlucky-in-love Maria Connor told
Holy Soap
that she wants to see the character settle down. She teased another upcoming romance with bad boy Chris Gray, played by Will Thorp.
"She had a little flirtation with Chris a couple of weeks back," Smith said. "You think that's the end of it but there's a question mark over it. Is it going to be that cut-and-dried that she'll stay away? Will that be the end of it? Probably, knowing Maria, it won't.
"I think she thinks she can fix these bad boys but she's never fixed any of them. She's never had any luck with any men. If I were her I'd give up!"
She added: "I'd like her to be happy for a while at least. It's always interesting to play her when she's going through a drama but it'll be nice to see her settled for a little bit."
> Samia Smith reveals Corrie secrecy