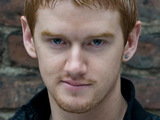 Coronation Street
star
Mikey North
has predicted that his character Gary Windass will not return to the army after he gets caught up in a roadside bomb incident in Afghanistan.
Next week, Gary's parents Eddie and Anna
discover
that he has been injured in a horrifying blast during his tour of duty in the troubled country.
Speaking to
Soaplife
, North explained: "He has a broken arm, broken ribs, an injured leg and shrapnel wounds to his face. But the worst injury is the mental one.
"He's a different Gary to the one you last saw. When his parents come to the hospital, they're shocked at the state of him."
As well as focusing on his recovery after returning to Weatherfield, Gary must also deal with the loss of his close friend Quinny, who was killed by the bomb.
Discussing Gary's future, North added: "I think his army career will be over after this incident. I can't see him wanting to go back at any point. He'll get better but I think an experience like that stays with you for the rest of your life. Gary can never forget the terrible things he's seen."
> Click here to read our Coronation Street spoilers