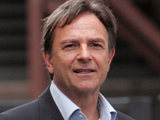 Former
Coronation Street
star
Brian Capron
has praised the soap's cast and crew for last night's live episode.
The ITV1 show yesterday marked its 50th anniversary with a live transmission which
featured
a birth, a death and a marriage in the aftermath of the street's tram crash tragedy.
Capron - who played Weatherfield villain Richard Hillman - told
This Morning
today: "I thought it was absolutely superb - so much incident, plot twists and superb production values. The planning that must have gone into it was terrific."
Asked whether live episodes of soaps are merely publicity stunts, the actor replied: "I think that's what people say, but my angle on it is that - amazingly enough - when you do a normal recording, the best take is nearly always the first take. Often you have to go again because of something technical, but when you do the second take, you sometimes just don't have that freshness and energy.
"I thought they were obviously all up for it last night - they had that extra edge. Also, in a way, it's rather nice to do your first performance and know it's going to go straight out."
A peak of nearly 15m viewers
tuned in
for last night's live broadcast.
> Corrie live ep receives rave reviews