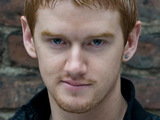 Mikey North
has revealed that he feels 'honoured' to be playing the role of soldier Gary Windass in
Coronation Street
.
In recent weeks, fans of the ITV1 soap have seen Gary experience symptoms of post-traumatic stress disorder (PTSD) in the aftermath of his devastating experience in Afghanistan.
Speaking in a new interview with
The Mirror
, North explained that he researched the storyline by meeting with real-life veterans and heard how PTSD can be common for soldiers who return from the frontline.
The actor said: "They've been kind enough to share their experiences with me. Some of the stories I've heard have been so moving. Gary is the only soldier in a soap at the moment and it's an absolute honour to play him."
He continued: "One guy came back and thought that he was fine until he was walking down the street and a car backfired. He jumped behind a wall and got ready to shoot.
"The scary thing is there's no time limit on it so you can come home and think you're okay, then 'bang' - you feel like you're losing your mind."
In Friday night's double bill of the show, viewers will see Gary attack a police officer on a night out - but North has hinted that there could be even more trouble to come.
He confirmed: "This is just the start of things going badly wrong."
> Click here to read our Coronation Street spoilers