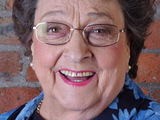 Coronation Street
star
Betty Driver
has claimed that her early success meant she became a "meal ticket" for her family.
The actress, who has played Betty Williams for 40 years, revealed that her dominant mother never showed her any affection and she believes pushed her into the entertainment industry because of her own failures.
"We never got a kiss," she told Radio 4's
Desert Island Discs
. "We never got a present, nothing. My mother was so strong that my dad just gave up. He was a sweet person but he just gave up.
"I think she always wanted to be on the stage and never really achieved anything. And that was the nearest thing - bunging me on, a little girl.
"I was the meal ticket for the entire family. My mother, my father, my grandma, my granddad, my aunts, everyone. They all had a nice little share of my money."
Driver also admitted that she can't cook hot pot like her character famously does: "No, I'm dreadful - I'm a terrible cook. I'm rubbish in the kitchen."