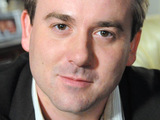 Graeme Hawley
has revealed that he hopes to beat the record for the highest number of killings on
Coronation Street
.
The actor, who plays John Stape in the soap, has been involved in the deaths of three characters so far and is eager to increase his number.
On the National Television Awards red carpet, he told
PA
: "I believe the record is three on Corrie so I'd like to get to four. I wouldn't mind the record. I think Richard Hillman [played by Brian Capron] has it."
Hawley went on to explain that he enjoys the part of John, saying: "I probably shouldn't say that from a PC (politically correct) point of view but it's great being a murderer."
The 37-year-old also added that fans have not been too harsh on him over the role.
"I get the odd bag of peas thrown at me in Tesco's but I'm big enough and ugly enough to handle that."