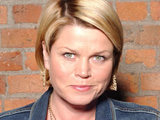 Coronation Street
stars
Vicky Entwistle
and Katy Cavanagh were reportedly hurt during filming of a fight scene.
The pair - who play Janice Battersby and Julie Carp respectively - were shooting the dramatic scenes inside the Street's Underworld factory,
The Mirror
reports.
The scenes apparently show Janice pinning Julie to a wall and throwing a chair. However, filming was halted temporarily when Entwistle's finger was cut and Cavanagh ended up with a split lip.
"She sat there looking sorry for herself while Vicky sol­diered on after being treated," a source told the paper. "It's an all-action plotline and will make for terrific TV.
"Things were calmed down eventually. But the scenes will have to be re-filmed and Katy's lip covered up to make it look normal again."
They added: "Bosses take health and safety issues seriously and this should never have happened. There was a fight co-ordinator watching the action."
The scenes - which will air next month - are said to form part of Entwistle's
exit
storyline from the ITV soap.