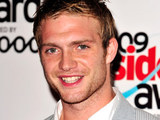 Chris Fountain
has insisted that his
Coronation Street
character Tommy Duckworth will not be a villain.
The former
Hollyoaks
actor was
cast
in the part late last year, following in the footsteps of Darryl Edwards and Joseph Aston, who portrayed the younger versions of the character.
As Tommy's father is bad boy Terry Duckworth, fans have speculated over whether the Weatherfield returnee could take after his dad.
However, in an interview with
Soaplife
, Fountain explained: "He is the son of Terry Duckworth but I don't think he's going to be as bad a character.
"He's more of a loveable rogue. He could be seen as quite smug and arrogant, but he's very charming. A real Jack the lad probably describes him best."
The star also confirmed
reports
that Tommy has an eye for the ladies, but added: "He doesn't make a good start. He tries it on with Sophie then with Sian. Later he sees them together and realises they're lesbians. But it's Tina who catches his eye."
Fountain makes his
Coronation Street
debut on March 28.
> Click here to read our Coronation Street spoilers