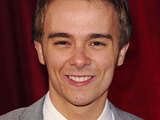 Jack P Shepherd
has revealed that his mother still analyses his performances on
Coronation Street
.
The actor, who has played David Platt since 2000, told the
PA
that his mum is totally honest with him, which helps to keep him grounded.
"When my mum watches my scenes, she'll phone me back and tell me that I went wrong in this place and wrong in that place, things like that," Shepherd explained.
"She's not my worst critic, I wouldn't say she's my best at all - she's literally the person that tells me everything that I've done wrong.
"I guess it's her way of keeping my feet on the ground."
The 23-year-old also revealed that his on-screen mother Helen Worth, who plays Gail Platt, has become a mother figure in his life.
"I have more scenes with Helen than probably any other character and I've known her for a long time. So I actually see Helen more than I see my real mum," he added.
Shepherd recently signed a reported
six-figure
deal to remain in the Weatherfield soap for a further year.
> Click here for our latest Coronation Street spoilers