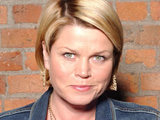 Coronation Street
star
Vicky Entwistle
has recalled her most memorable moments on the set of the show ahead of her departure.
The actress, who is
leaving the ITV1 soap
after 14 years of playing Janice Battersby, spoke of turning up to work 90 minutes late after a night out with former co-star Denise Welch and being told off by Barbara Knox (Rita Sullivan).
"Denise had a flat in Manchester so we'd go out on the town and then stay at hers. We thought we were half of
Sex And The City
," she told the
News of the World
.
"A close friend died and I'd had a few too many. I rocked into work late and was due to do a scene with Rita. I apologised for being late and she told me off, and rightly so. She said I was unprofessional and gave me a right roasting. I was really hungover too!"
Entwistle revealed that she is also close to Jane Danson (Leanne Barlow) and "had a proud motherly moment" when she finally got her drunk on peach Schnapps.
She added: "I have no regrets about saying goodbye to Janice. I don't miss her. Maybe after I've proved I'm actually an actress and not Janice, I may go back. Never say never."
Entwistle has admitted that she quit the soap because it has
become "too big" for her now
.