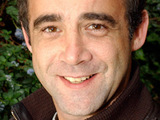 Coronation Street
's Kevin Webster will be crushed by some expensive machinery at his garage in a forthcoming storyline, reports have revealed.
The Weatherfield mechanic, played by
Michael Le Vell
, will suffer a painful accident after his decision to splash out on a state-of-the-art car lifting machine backfires horribly, according to the
Daily Star
.
It is thought that Kevin uses over £20,000 of
his scratchcard winnings
to buy the device, but spitefully bans his business partner Tyrone Dobbs (Alan Halsall) from using it as their bitter feud continues.
In frustration over Kevin's behaviour, Tyrone apparently attacks the machine with a hammer, unwittingly causing a hydraulic leak. When Kevin uses his new purchase to work on a car later, he fails to realise anything is wrong until it starts moving downwards, taking the vehicle with it and crushing him with its weight.
A shocked Tyrone and his new housemate Tommy Duckworth (Chris Fountain) are later alerted to Kevin's perilous situation and call an ambulance. Kevin's ex-partner Sally is also said to race to the scene when she finds out what has happened.
Sources say that Kevin is freed by emergency services but it is currently unclear whether they do so in enough time to avoid any lasting damage.
Relations at the garage have been frosty since December, when Tyrone
discovered that Kevin had betrayed him
by having an affair and fathering a child with his wife Molly before her death.
News of Kevin's accident comes after his daughter Sophie had a
horror fall from a church roof
last month.
> Click here to read our Coronation Street spoilers