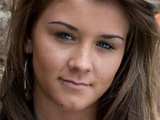 Coronation Street
star
Brooke Vincent
has slammed Prime Minister David Cameron for backing a move to ban pre-watershed same-sex kisses.
The 18-year-old, who plays Sophie Webster in the ITV1 soap, questioned Cameron's commitment to equal rights.
She wrote on Twitter: "I swear David Cameron's meant to be supporting equal rights.
"I just think if same-sex kisses are what he is prioritising and concentrating on changing, our country's in trouble."
Her comments follow a report suggesting that an independent review may recommend gay embraces to be restricted to post-9pm, which would be supported by Cameron.
Alongside fellow actress Sacha Parkinson (Sian Powers), Vincent has recently been involved in
Coronation Street's first lesbian love story
.
> Vincent, Parkinson 'want Corrie marriage'