There's high drama at the garage in tonight's
Coronation Street
double bill as Kevin finds himself in danger.
Growing frustrated as Kevin continues to boast about his expensive car lifting machine, Tyrone takes his anger out on the device when his business partner isn't around - attacking it repeatedly with a spanner.
Although Tyrone thinks that he's just letting off steam, he's actually caused damage to the gadget but is blissfully unaware of this as he heads off for a break.
Later, as Kevin works alone at the garage, the lift suddenly buckles as he's trying to fix a car - leaving him trapped in a nasty crush. Will he be okay?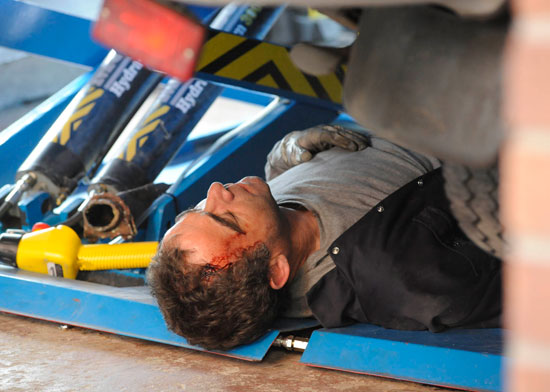 Coronation Street
airs tonight at 7.30pm and 8.30pm on ITV1.
> Read more about tonight's Coronation Street double bill
> Shock Webster accident for Corrie
> Alan Halsall discusses the outcome of the storyline