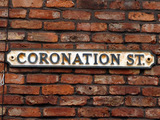 Coronation Street
executive producer
Kieran Roberts
has hit back at claims that the ITV soap has lost viewers due to a "plethora" of gay characters.
The final edition of the
News of the World
carried a report which said that the Manchester serial had lost over a quarter of its viewers in just one month.
MIchelle Collins's northern accent in her new role as Stella Price has received criticism, while it was also suggested that producer Phil Collinson will exit his position next year.
Roberts told Radio 5 Live's
Breakfast
show: "I think it's a storm in a teacup at the moment. There are a few newspapers who seem to have latched on to some notion that the programme has fundamentally changed and that ratings are on the slide.
"That's just not true. We are very in touch with the soul of
Coronation Street
. We talk to the creator Tony Warren all the time. We know what the show is and we work very hard to keep it that way."
> Coronation Street's Charlie Condou hits back at gay character criticism
> Coronation Street gay plots divide opinion
Roberts went on to discuss claims that the show - which celebrated its 50th anniversary last year - now focuses on its gay characters too much.
He commented: "This notion that there is suddenly a plethora of gay characters... Well the four regular gay characters we've got; one of them has been with the show eight years - that's Sean (Antony Cotton), Marcus arrived with us originally four or five years ago and went away and came back, Sophie Webster's obviously been with the show since she was born and has been questioning her sexuality for the last couple of years now.
"So it seems odd to me that this has suddenly sprung up now in the last week or two. Again, I think that's nonsense. I think this is being driven by one or two tabloid journalists."
Former
EastEnders
star Collins joined the show as Stella last month. Latest
reports have suggested that she has been given a "last chance" storyline
to win over viewers.
"I think Michelle is a wonderful actress," Roberts added. "We're very lucky to have her on the show. She's going to be a huge asset to us. I think the accent is terrific. She's going to be with us, hopefully, for a long time!"
> Corrie boss defends Michelle Collins accent
> Coronation Street moves back to Wednesday nights