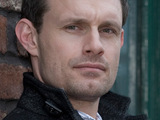 Coronation Street
star
Ben Price
has claimed that the soap is becoming more gritty to keep viewers "involved and interested".
Recent press criticism surrounding the ITV1 show's storylines has suggested that the programme is steering away from its roots by tackling darker and more controversial subject matters.
However, in an interview with
Bang Showbiz
, Price dismissed talk of a crisis on the cobbles and insisted that
Coronation Street
bosses are merely trying to keep the show relevant.
The actor, who plays Weatherfield businessman Nick Tilsley, commented: "I think the show has definitely steered away from what it started as, but it was launched in black and white. If you don't move on or try anything new you'll still be stuck in black and white with Ena Sharples and Elsie Tanner sweeping up the street.
"It was 50 years ago, it's not a series that has been running for three years - it's 50 years old and you have to keep coming up with new storylines to keep the audience involved and interested. The viewing figures are actually up and the audience clearly like these shocking storylines, as they're watching them. That's what matters."
Price added: "We're probably going into the arena that used to be occupied solely by
EastEnders
and I think people are perhaps making a bit too much of it all. It's good to have been talking about it, we shouldn't forget that."
Coronation Street
producer Phil Collinson recently defended the soap's performance,
explaining that reports of a ratings crisis were "inaccurate and disingenuous"
.
However, the programme's chief also pledged to
"shift away from serial killers and crime storylines"
as episodes had focused on "the police station and the court room a little bit too much".
> Ben Price signs new Coronation Street deal
> Read more Coronation Street spoilers and news