Coronation Street
's Gail Platt has an emotional heart-to-heart with daughter-in-law Kylie as the tearaway mum opens up over Max in tonight's double bill of the soap.
When David learns that Max is being put up for adoption and Kylie (
Paula Lane
) has said nothing, he angrily confronts his wife - before being left stunned when she declares that she has no interest in getting her son back.
Later, Gail (Helen Worth) corners Kylie back at Number 8 and declares that she mustn't have a maternal bone in her body - but she isn't prepared for a sudden breakdown from Kylie, who explains the reasons behind her attitude.
As Kylie states that she's only ever let Max down and he's better off without her, Gail finally begins to sympathise with her. When Gail encourages Kylie to fight for Max as her personal circumstances have changed, will she listen?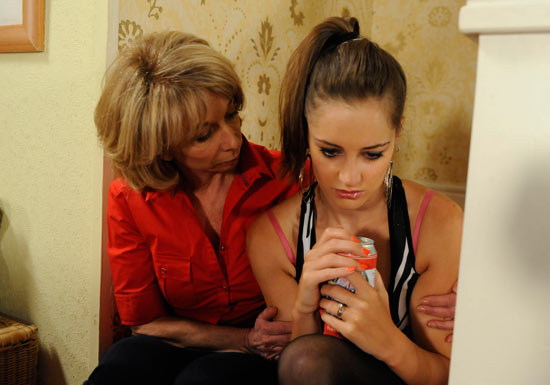 Coronation Street
airs tonight at 7.30pm and 8.30pm on ITV1.
> Coronation Street Paula Lane: 'Gail is a mother figure for Kylie'
> Corrie's Paula Lane: 'Kylie getting Max back would be fabulous'
> Read our full spoiler for the first episode of tonight's Coronation Street double bill
> Read our full spoiler for the second episode of tonight's Coronation Street double bill
> Read more Coronation Street spoilers and news