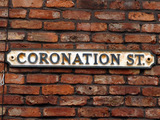 Coronation Street
's 50th anniversary appeal raised over £150,000 for charity, the soap has announced today.
As the show reached its milestone birthday last year,
bosses and cast members launched a series of fundraising events
to bring in cash for Cancer Research UK, the NSPCC and The Christie cancer centre in Manchester.
Coronation Street
has now donated £50,000 to each of the charities, which were chosen by the cast in a democratic vote last year.
Initiatives used to raise funds included a charity auction and gala dinner.
Coronation Street
's executive producer
Kieran Roberts
commented: "We're delighted fundraising initiated by the
Coronation Street
cast during the 50th anniversary year has generated £50,000 for each of the charities.
"We felt raising money for charities during the anniversary year would be a tangible way of celebrating
Coronation Street
's heritage."
> Take a look back at our coverage of Coronation Street's 50th anniversary
> Read more Coronation Street spoilers and news