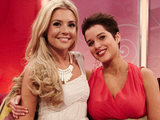 Coronation Street
guest star
Candy McCulloch
has admitted that she was shocked by the "fantastic" effort that Helen Flanagan put into their screen fight scene.
The actress
plays the role of blonde bombshell Stacey in a new online Coronation Street spinoff
, which focuses on Flanagan's character Rosie Webster as she tries to make it as a top model in London.
Just Rosie
, which launched on Monday, sees arch-rivals Stacey and Rosie come to blows as they both make a live television appearance on
Lorraine
.
McCulloch told the
Liverpool Echo
: "We only had two takes to do the scene because we were filming right before Lorraine's show actually went out. They told us they had 10 minutes to do it in, but we couldn't fight for real because there was no fight co-ordinator.
"They said we should just struggle over a hat, which they both want to wear, so I thought we wouldn't touch each other. But Helen's quite a physical actress and as soon as they called action she got really involved."
She laughed: "It ended up being far more of a fight than anyone was expecting - especially me! I was thinking, 'Oh my God, what's she doing?' There were arms flying everywhere and she ended up hitting me over the head with the hat. But she was fantastic and at least my expression will be genuine shock."
McCulloch previously played the role of Sami in the third series of
Hollyoaks Later
.
> Coronation Street launches official Rosie Webster website
> Read more Coronation Street news and spoilers
Watch Inside Soap Awards guests telling
Digital Spy
about their fantasy celebrity soap guests below: