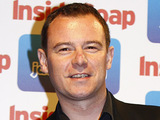 Coronation Street
star
Andrew Lancel
has predicted that it will be "interesting" for viewers to see Frank Foster's relationship with mum Anne explored in more depth in the coming days.
The actor's evil character
manages to win his appeal for bail
in tonight's double bill of the soap, before focusing his attention on reasserting his control at the Underworld factory.
Determined to put pressure on ex-fiancée Carla Connor (Alison King) so that she withdraws her accusation of rape, Frank recruits Anne (Gwen Taylor) to act on his behalf at the business and make Carla's life a misery.
Lancel told
Hot TV
of the latest storyline twists: "Frank has told Anne that he didn't [rape Carla] and she believes him. She has to - she is his mother.
"It will be interesting to watch his relationship with his mother to see if it gives any clues as to what has made him the man he is today."
Discussing Frank's motivations, he continued: "It isn't so much revenge as clearing his name. He knows that if he sticks to his story about being framed by Carla, it is going to look more feasible if he keeps his business interests going and has his mum around keeping an eye on things and being seen to support him.
"He does still love Carla but it is a weird kind of love. He is very controlling and is in total denial about what he has done. He even thinks she made him do it and if she dropped the charges he would think he was forgiving her if he had her back."
Coronation Street
continues tonight at 7.30pm and 8.30pm on ITV1.
> Coronation Street Frank will be protected by Anne, says Gwen Taylor
> Coronation Street Carla plot has high drama ahead, says Alison King
> Read more Coronation Street spoilers and news
Watch a video preview of tonight's
Coronation Street
double bill below: