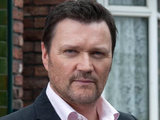 Coronation Street
bosses have defended Owen Armstrong and Faye Butler's slapping storyline following complaints over Monday night's episodes.
Earlier this week, viewers saw Owen slap Faye (Ellie-Louise Leach) twice on the back of the legs as a punishment after discovering that she had poured creosote into his fish pond, killing his new pets.
The incident occurred after Anna Windass asked Owen to look after her adopted daughter Faye for the night while she was dealing with a family emergency. Anna and Owen have been in a relationship for a few months.
However,
The Mirror
reports that ITV and media regulator Ofcom have both received complaints over the decision to broadcast the scenes.
Meanwhile, Phillip Noyes of the NSPCC told the newspaper: "Parents can obviously be pushed to the limit on occasion, but there are more positive ways of correcting a child's behaviour than smacking them.
"It simply sets a bad example and teaches children that violence is a solution. Children tell us it leaves them scared and confused and the NSPCC believes it simply gives out the wrong message and breaks down the trust between child and parent."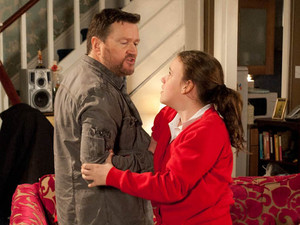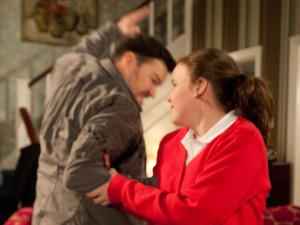 Coronation Street
chiefs have defended the storyline, which will continue in upcoming episodes as Owen's actions
are criticised by Anna and his own daughters Izzy and Katy
.
A show spokesperson commented: "We most certainly don't condone Owen's actions - as will be seen by the ramifications of the slap, and the effect it has on his relationship."
Debbie Rush, who plays Anna, recently told
Digital Spy
that
her character will be horrified when she learns what Owen has done
.
Rush explained: "Anna is absolutely devastated, because she really trusted Owen. Anna doesn't believe in smacking children full-stop - she's part of the 'Full Stop' campaign. So she's absolutely distraught and devastated that Owen has done this."
Meanwhile,
Ian Puleston-Davies
- who plays Owen - has said that
show bosses considered the plot carefully at all stages
.
He commented last week: "I think any controversial subject handled in the right way is good controversy, not bad controversy. I know it was talked about within the writing group and with the producers at length, so they were very careful.
"I was very aware that I wanted to go through the script with a fine-tooth comb... From the moment it was suggested, they took it very carefully and very slowly, so it took a long time to reach the script stage, and rightly so. I'm happy with the finished result."
Coronation Street
continues on Thursday at 8.30pm on ITV1.
> Coronation Street couple hit the rocks in parenting plot
> Coronation Street actor: 'Producers were careful with slapping plot'
> Coronation Street's Debbie Rush chats to Digital Spy about the storyline
> Read more Coronation Street news and spoilers
Watch a preview of Friday night's
Coronation Street
double bill in the video below: