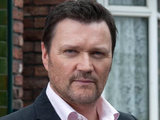 Coronation Street
star
Ian Puleston-Davies
has said that he is "disappointed" by criticism directed at his character Owen Armstrong's child smacking storyline.
Earlier this week, viewers saw Owen slap 9-year-old Faye Butler (Ellie-Louise Leach) on the back of the legs as a punishment after discovering that she had killed his fish by pouring creosote into their pond.
The scenes were broadcast in Monday night's double bill of the soap, but
ITV and media regulator Ofcom have since received complaints
over the plot.
Speaking on
Loose Women
today, Puleston-Davies explained: "I was fully prepared for filming the scene because this wasn't an easy decision to take. The producers, the writers, everyone from top to bottom, thought long and hard - and discussed at length - about whether this storyline should be written.
"It wasn't an easy decision, but we thought it was a topic that maybe needed to be aired. It always continues to need to be aired, it needs to be debated and I'm a little disappointed that there are certain people saying this shouldn't be written.
"Well, these things happen behind closed doors whether we like it or not. So let's show it, let us be the storytellers - we're only the messengers, so don't shoot us. But let us certainly be the storytellers, we'll put it out there and you lot discuss it and hopefully learn from your own reactions."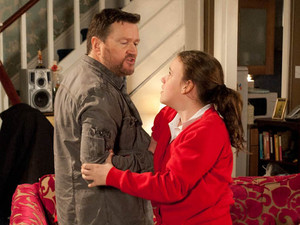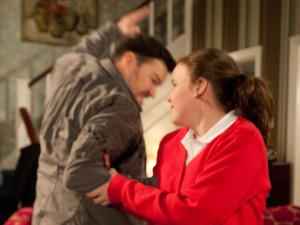 Puleston-Davies, who is a father-of-two, added that he does not agree with Owen's actions.
"I think there are obviously a lot of grey areas," he continued. "I'm glad I played it in a way that showed I was out of control, because it wasn't a controlled, obedient, 'This is naughty', slap on the back of the legs - because that would be too easy to, in a way, condone.
"I wanted to show that yes, he did only slap Faye on the back of the legs, but look how angry he was - look how out of control he was… I don't believe that I ever need to hit my children."
Forthcoming episodes of
Coronation Street
will see Owen's decision have huge repercussions as his girlfriend Anna - Faye's adopted mother - is horrified when she finds out about the slap.
A
Coronation Street
spokesperson today said: "We most certainly don't condone Owen's actions - as will be seen by the ramifications of the slap, and the effect it has on his relationship."
Coronation Street
continues on Thursday night at 8.30pm on ITV1.
> Coronation Street couple hit the rocks in parenting plot
> Coronation Street actor: 'Producers were careful with slapping plot'
> Coronation Street's Debbie Rush chats to Digital Spy about the storyline
> Coronation Street defends Owen, Faye slap plot after complaints
> Read more Coronation Street news and spoilers
Watch a preview of Friday night's
Coronation Street
double bill in the video below: