Coronation Street
aired Becky McDonald's final scenes tonight (Monday) as her revenge scheme played out with a shock twist.
As widely reported in the build-up to the dramatic episodes, Becky gatecrashed her arch-rival Tracy Barlow's wedding to Steve - armed with proof that the schemer had been telling wicked lies about her miscarriage.
However, in a surprising turn of events which had been kept under wraps by show bosses, Becky let the ceremony go ahead - deciding that Steve (Simon Gregson) and Tracy (Kate Ford) deserved each other after the way they had treated her.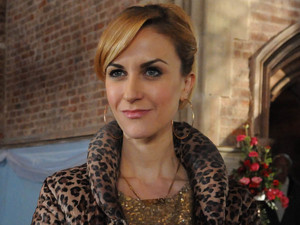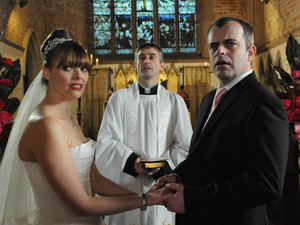 It was only after Steve and Tracy tied the knot that Becky exacted her revenge, exposing the truth during the pair's wedding reception at The Rovers.
Handing an envelope to Steve, Becky told her ex-husband: "These are Tracy's medical records, showing that when she fell down my stairs - and that's fell, folks, not pushed - there were no babies.
"Now whatever she's been through, and trust me I would not wish that on my worst enemy, it was nothing to do with me. Your shiny new wife's a filthy liar."
Exposing Deirdre's part in covering up Tracy's deception, Becky then told Ken: "She knew - isn't that right, Dreary? Filthy liars - they run in the family."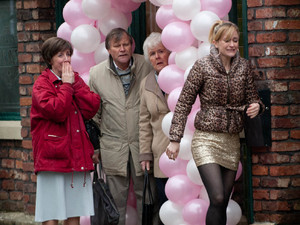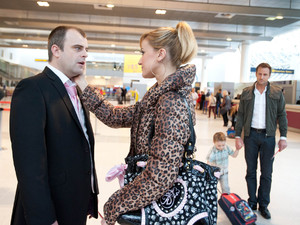 Having cleared her name, Becky decided that it was time to leave Weatherfield and start a new life in Barbados with Danny Stratton (Jeremy Sheffield) and his young son.
Although Steve rushed to the airport and begged Becky for another chance, she rejected his pleas and stuck with Danny - before flying off into the sunset.
Katherine Kelly
, who played the role of Becky,
announced her decision to leave Coronation Street last April
and
filmed her final scenes in December
.
The 32-year-old is now
working on a new production of Oliver Goldsmith play She Stoops to Conquer
at the National Theatre in London.
Coronation Street
continues on Thursday at 8.30pm on ITV1.
> Becky McDonald should return to Corrie, says boss> Coronation Street Becky gets fitting exit, says Katherine Kelly> Katherine Kelly: 'Coronation Street changed my life'> Coronation Street Tracy will find new enemy, says Kate Ford> Read more Coronation Street news and spoilersDid Becky make the right choice with her revenge? Vote in our poll below!