Coronation Street
star
Sue Nicholls
has said she hopes Audrey's heart attack looks realistic.
The 68-year-old actress told
ITV.com
that she was conscious not to portray her collapse in a "Hollywood" fashion.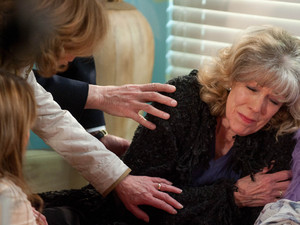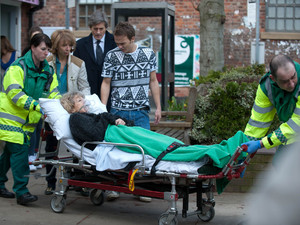 Referring to advice she received from the British Heart Foundation, Nicholls said: "The nurse said to me, 'Don't do the Hollywood thing', as it doesn't necessarily happen like that.
"But you have to remember Corrie's a drama too, so I had to portray a little more drama.
"I pray I've got a happy medium. Until I see it, I won't know if I've done the Hollywood thing!"
Audrey Roberts has been
battling for the hairdressing salon with grandson
David Platt (Jack P Shepherd) and feuding with daughter Gail (Helen Worth) over her reconciliation with returning conman Lewis Archer (Nigel Havers).
Nicholls added: "I think Audrey put all her physical symptoms down to stress. She's been going to bed each night furious, cross or upset. She puts the blame totally on David."
> Coronation Street Audrey suffers a heart attack - full details
Photo gallery - Audrey suffers a heart attack and is rushed to hospital
: