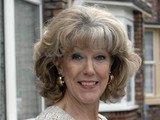 The British Heart Foundation (BHF) will launch a new advertising campaign next week to tie in with
Coronation Street
's heart attack storyline, it has been announced.
Adverts for the charity will be screened during Monday night's (April 23) double bill of the soap, which sees long-standing character Audrey Roberts (
Sue Nicholls
) collapse in pain
as her health takes a sudden turn for the worse
.
Three adverts will be shown in total, but bosses at the organisation are also planning online and social media activity,
The Drum
reports. Additionally, a licensing agreement with ITV means that images of Audrey can be used in-store.
The British Heart Foundation's head of marketing Nick Radmore commented: "Heart disease is the single biggest killer of women in the UK, but many don't realise this. Working with ITV provides an exciting and innovative opportunity to reach millions of viewers across the UK with a life-saving message.
"We're hoping that people will be moved by Audrey's story and give our heart nurses a call to chat about their own real-life concerns."
ITV's account sales manager Neil Bonley added: "ITV's partnership with British Heart Foundation demonstrates how we can innovate around the traditional model of brand building on TV, with a focus on maximising impact through new ways of integration with our programme brands."
Despite the tie-in, ITV has insisted that the charity did not influence the
Coronation Street
storyline and will not be mentioned in the show's script.
> Coronation Street: Audrey suffers a heart attack - spoiler pictures
> Coronation Street Audrey 'won't have Hollywood heart attack'
> Coronation Street Paula Lane teases Kylie, David rift - interview
> Read more Coronation Street spoilers and news
Photo gallery - Audrey suffers a heart attack and is rushed to hospital.