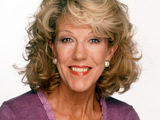 Coronation Street
star
Sue Nicholls
has said that her character Audrey Roberts may pursue an easier life after she suffers a heart attack.
Audrey is rushed to hospital
next week after she collapses in pain during an argument with her family at the hairdressing salon.
Show bosses have already confirmed that Audrey will recover from her scare, but how long that process will take remains to be seen.
Nicholls told
TV Choice
: "She might have to think about taking more time out for herself - maybe more holidays now she has the charming Lewis to accompany her.
"But I'm not sure we'll see her lifting weights at the gym. She might have fewer G&Ts in the future, but she won't be giving them up forever. She has to have some pleasure in life!
"Part of what we want to get across in this is that women are just as susceptible to heart attacks as men - not many people realise that. I do what I can to stay fit, and I eat well. And I definitely spend less time in the pub than Audrey does!"
Nicholls also discussed the reaction of Audrey's grandson David (Jack P Shepherd), who feels guilty for putting her under stress in their salon war.
"David wants to apologise for all that's happened, but Audrey is in no mood to hear it," she explained. "David has a lot of bridge-building to do as far as she's concerned. He replaces the original sign outside the salon and it's named 'Audrey's' again, which is a good start."
Coronation Street
airs Audrey's health scare on Monday (April 23) from 7.30pm on ITV1.
> Coronation Street: Audrey suffers a heart attack - spoiler pictures
> Coronation Street Audrey 'won't have Hollywood heart attack'
> Coronation Street plot sparks new British Heart Foundation campaign
> Coronation Street Paula Lane teases Kylie, David rift - interview
> Read more Coronation Street spoilers and news
Photo gallery - Audrey suffers a heart attack and is rushed to hospital.