Coronation Street
's
Sue Nicholls
has revealed that her husband gives her advice about her on-screen relationship with Nigel Havers.
Nicholls told the
Daily Express
that her partner Mark Eden has been "terribly helpful" since her character Audrey Roberts reconciled with conman Lewis Archer.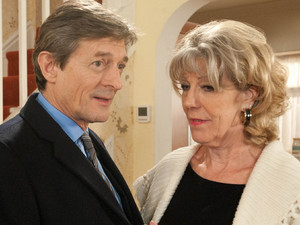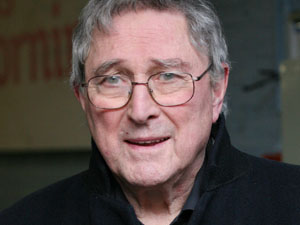 She explained: "Mark is not at all jealous of Nigel. He's actually terribly helpful when it comes to those kind of scenes. Mark's probably kissed more women on screen than he's had hot dinners.
"Very good he is at it too, although sadly I've never had a chance to kiss him on screen, only at home. In fact he gives me so much advice at times I have to tell him to shut up."
Eden, 84, starred in Corrie as the evil Alan Bradley, who met his end under a tram in 1989 in one of the soap's most memorable moments.
Nicholls, 68, added that she hopes to avoid intimate bedroom scenes in the future. The veteran actress said: "Subtle screen kissing is fine but I wouldn't like to do bed scenes anymore, thank you.
"I think the kissing is best if it's just nice, gentle kisses and hugs. I'll leave the snogging to the youngsters."
> Coronation Street Sue Nicholls fears Audrey, Lewis heartbreak
> Coronation Street Sue Nicholls: 'Audrey will need less stress'