0
Soaps News
POTD: 'Coronation Street' Terry Duckworth plans in ruins
Coronation Street
launches a hellish fortnight for Terry Duckworth this evening (April 30) as his plans for a lap-dancing club are left in tatters.
Terry (
Nigel Pivaro
) finds himself thwarted when Kirsty and Tyrone take action to prove that there's something dodgy about the council's recent approval of his bar.
An unauthorised search at the Town Hall soon makes Kirsty (Natalie Gumede) aware that Councillor Peake and Terry could be in cahoots. When she delves in deeper using the computer system at work, Kirsty finds damning evidence that Peake accepted a bribe from Terry and alerts her superiors.
Later at The Rovers, Terry and Tommy (Chris Fountain) are shocked as a smug Kirsty and Tyrone (Alan Halsall) share the bad news with them. How will Terry react to being outsmarted?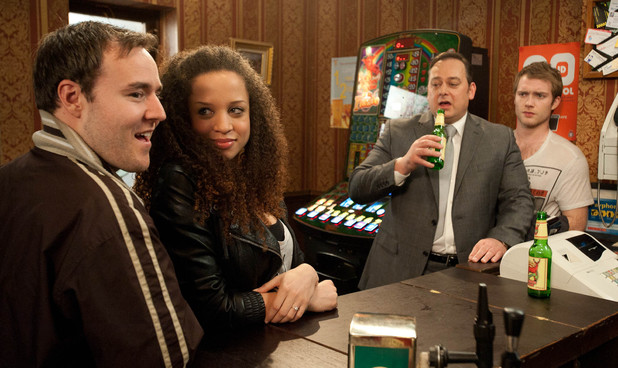 Coronation Street
airs tonight at 7.30pm and 8.30pm on ITV1.
> Coronation Street Alan Halsall: 'Kirsty's violence shocks Tyrone'
> Coronation Street Terry dramas to horrify Tina
> Coronation Street Michelle Keegan: 'Terry's arson plan is too risky'
> Read our spoiler for tonight's first Coronation Street episode
> Read our spoiler for tonight's second Coronation Street episode
> Read more Coronation Street spoilers and news
Get the Inside Soap magazine on your iPhone or iPad