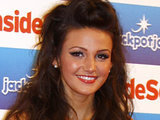 Coronation Street
's
Michelle Keegan
has said that she suffered bruising after filming a fight as her character Tina McIntyre.
Speaking to
Inside Soap
, Keegan revealed that the Rover's Return barmaid comes to blows with scheming lap dancing club owner Terry Duckworth (Nigel Pivaro).
Following Terry's
vicious attack
, Tina is
found by boyfriend Tommy (Chris Fountain), who rushes her to hospital
.
Keegan commented on the violent scene: "I wanted it to look as real as possible, so I really went for it. I had loads of bruises - especially because of the loan sharks. They were carrying me about, and I had hand marks all over me!
"I had to fall onto a crash mat, and they made a rubber floor that looked exactly the same as the tiled floor. So I had to fall down and whack my head on the fake floor.
"I was happy to get the chance to do my own stunts, as I'd never done anything like this before," she added.
The plot will play out next Wednesday and Thursday (May 9 and 10) in
Coronation Street
's special week of 9pm episodes.
> 'Coronation Street' Michelle Keegan: 'Terry's arson plan is too risky'
> Max George: 'Michelle Keegan's British Soap Awards win never in doubt'