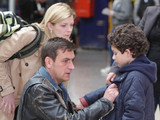 Simon Barlow made a huge decision in an emotional trip to Weatherfield in
Coronation Street
last night
(July 16).
The Manchester schoolboy, offered the trip of a lifetime with desperate dad Peter, opted to stay with surrogate mum Leanne.
Had he moved abroad for four months, Simon would have to spend time with Peter's girlfriend Carla, also a recovering alcoholic.
By staying in Weatherfield, Simon will be residing with Leanne's
"slimy"
new lover Nick Tilsley, as well as the Platts in No.8 with Gail, David, Kylie and little Max.
But has 'Si' made the right choice? Imagining yourself in his situation, what would you have done?
Vote in our poll below and leave your comments in the box below: