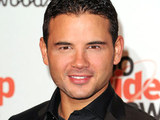 Coronation Street
's Ryan Thomas has opened up about his experience filming ITV special
Corrie Goes To Kenya
.
The Jason Grimshaw actor admitted that his partaking in killing a goat left him "totally traumatised" and on the verge of vomiting.
"There was a ritual where they wanted to feed us goat, so we had to kill one," he told
The Sun
.
"I had to hold its legs while they slaughtered it. I was nearly being sick. I was totally traumatised - until we skinned and ate it."
However, Thomas added that his terror was short lived, praising the Kenyan tribe for the ritual.
The 28-year-old added: "We put loads of garlic and lemon and herbs on it and threw it on the barbecue and it was pretty damn tasty!
"I realised that it was actually an honour for us to be given the goat by the tribe. This is their tradition and I respected that."
Corrie Goes To Kenya
's first episode of a two-part special will be broadcast on Friday, August 17 at 9pm on ITV1.
Brooke Vincent
(Sophie Webster), Sue Cleaver (Eileen Grimshaw) and Ben Price (Nick Tilsley) also took part in the programme.
Watch Brooke Vincent talking to
Digital Spy
about her Kenya trip below: