0
Soaps News
POTD: 'Coronation Street's Tommy fears the worst over Tyrone
Coronation Street
's Tyrone Dobbs sparks fresh concerns for his wellbeing this evening (August 27) as he accidentally scalds himself at home.
Tyrone (
Alan Halsall
) is busy making cups of tea for himself and Kirsty when hot water comes pouring out of the kettle and onto his hand as he hasn't put the lid on properly.
A concerned Kirsty immediately helps out Tyrone by running his hand under cold water before bandaging it.
At work, however, Tommy (Chris Fountain) is still reeling
after hearing the truth about Kirsty's violence
- and he jumps to entirely the wrong conclusion when he spots Tyrone's injury.
Tommy initially keeps quiet about his concerns as he doesn't want Tyrone to know that Tina betrayed his trust. But it's not long before Tommy feels compelled to confront Kirsty…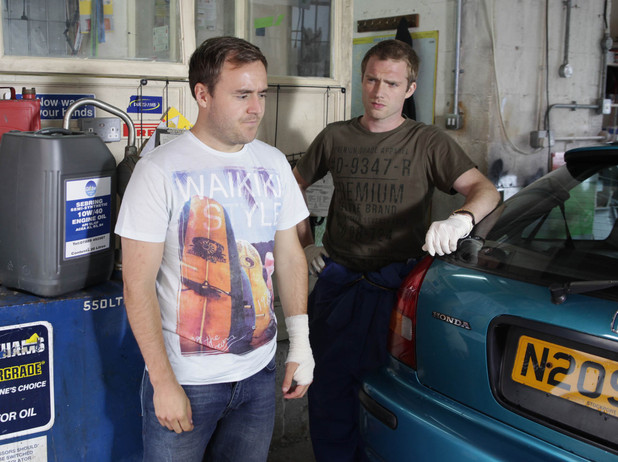 Coronation Street
airs tonight at 7.30pm and 8.30pm on ITV1.
> 'Coronation Street' Chris Fountain: 'Nobody will believe Tommy'
> 'Coronation Street' star Chris Fountain chats to Digital Spy about the storyline
> Read our spoiler for tonight's first 'Coronation Street' episode
> Read our spoiler for tonight's second 'Coronation Street' episode
> Read more 'Coronation Street' spoilers and news
Get the Inside Soap magazine on your iPhone or iPad