Coronation Street
's Tommy Duckworth has a road accident this evening (September 3) as the pressures of his current situation take their toll in dramatic fashion.
Tonight's double bill sees vengeful Kirsty Soames decide to give Tommy (
Chris Fountain
) the day from hell. She kicks off her efforts by deliberately waking him up following a tiring night shift, turning up at the flat to demand the latest loan repayment.
After ensuring that Tommy's much-needed sleep is interrupted, Kirsty later takes things a step further by causing trouble for him on his delivery shift - ordering pizzas before kicking up a fuss by claiming that he's brought the wrong meal.
Dealing with Kirsty's mischief takes so long that Tommy ends up running late for his next security shift. The former mechanic takes the pizza van to ensure that he arrives on time, but his fatigue places him in peril when he falls asleep behind the wheel - leading to a crash…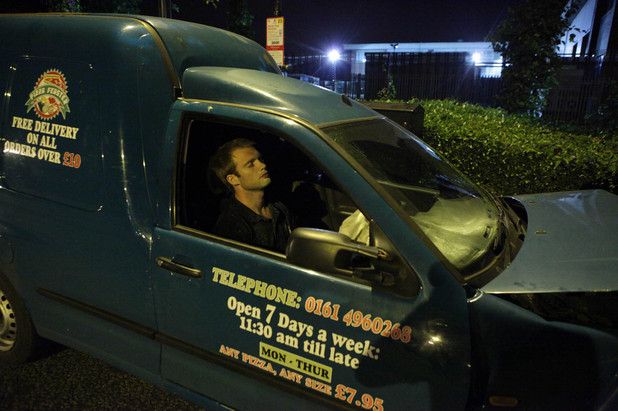 Coronation Street
airs tonight at 7.30pm and 8.30pm on ITV1.
> Read our spoiler for tonight's first 'Coronation Street' episode
> Read our spoiler for tonight's second 'Coronation Street' episode
> Read more 'Coronation Street' spoilers and news