4
Soaps News
POTD: 'Coronation Street's Kirsty faces the police
Coronation Street
villain Kirsty Soames faces police questioning this evening (November 23) over Fiz Stape's recent injury at the factory.
Still in shock after Kirsty (
Natalie Gumede
) caused the 'accident' with her machine at Underworld, Fiz heads into work to let Rob and Michelle know who was responsible. When they fail to take her accusations seriously, a stressed-out Fiz contacts the police instead.
Having heard what Fiz (Jennie McAlpine) has to say, two officers turn up at the factory and announce that they want to speak to all of the workers - with Kirsty at the top of their list.
Kirsty is shocked that Fiz has taken things so far, but will she be able to hide her guilt when quizzed over the allegation she is facing?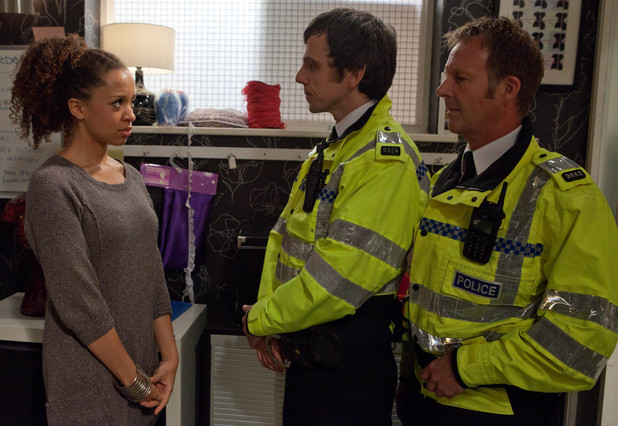 Coronation Street
airs tonight at 7.30pm and 8.30pm on ITV1.
> 'Coronation Street' star Jennie McAlpine chats to Digital Spy about the storyline
> Read our spoiler for tonight's first 'Coronation Street' episode
> Read our spoiler for tonight's second 'Coronation Street' episode
> Read more 'Coronation Street' spoilers and news
Get the Inside Soap magazine on your iPhone or iPad