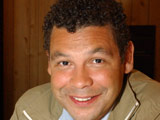 Coronation Street
chiefs have become concerned that
Craig Charles
's old alcohol problem has returned, according to a report today.
The actor, who plays Lloyd Mullaney on the ITV1 soap, revealed last year that his addiction to booze had led to a crack cocaine habit. Speaking openly about his reliance on alcohol, Craig admitted that he would "get the paper and be waiting for the boozer to open at 11am".
Charles sparked new fears for his wellbeing this week when he was spotted looking dishevelled while drinking wine at his local pub in Ashley, Cheshire.
A witness revealed: "When he decided to go home he must have been over the limit because he asked the landlord to drive him. It is sad to see him looking like this, drinking on his own."
A Street source told the
News of the World
: "There are real worries about Craig. It is known he is often in the pub. It's not a good environment for him."
However, Craig has insisted that the fears are unwarranted. He said yesterday: "I enjoy the occasional glass of wine. I have my life back in order." Charles went on to say that he looked unkempt because he had been doing DIY before visiting the pub.