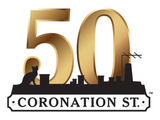 On Friday afternoon,
Coronation Street
stars Bill Roache (Ken), Michael Le Vell (Kevin), Jennie McAlpine (Fiz) and Antony Cotton (Sean) joined producer
Phil Collinson
to field questions from the media at a press conference to promote the soap's 50th anniversary storylines. Many of the more interesting snippets from the conference have already appeared in our
news
section over the past couple of days, but here,
Soap Scoop
presents the full Q&A. Read on to hear what Bill, Michael, Jennie, Antony and Phil had to say about the tram crash and more.
It's been confirmed that some characters will die next week - when will their identities be revealed on screen?Phil:
"Not until the end of the week, really. We try to wring every ounce of drama and emotion out of it. The whole week takes place in real-time - there isn't a day passing between the episodes, it's literally the next minute. They're just massively action-packed, so we try to hold all of our secrets right to the end of the week."
How did the cast feel when they watched the disaster episodes for the first time?Michael:
"I thought it was amazing. I nearly cried at the end! I thought it was fantastic - just seeing the devastation on the screen, it was quite emotional!"
Bill:
"What Michael said was right. I had tears of pride to belong to a team who can produce something like that. I think it's not only one of the best things on
Coronation Street
ever, I think it's one of the best things on television ever."
Antony:
"It's weird watching it! I watch it now as a viewer, because it's all a piece-meal - we all do our little bits in different places, and now it's all together. I'm a fan of the show anyway, but it's watching it as a viewer like everybody else. It's absolutely gobsmackingly amazing."
Jennie:
"We were sat - me, Vicky Binns, Julie Hesmondhalgh and Jane Danson was in front of us. Everyone got up but we were sat there for about 15 minutes afterwards - I felt sick! I'm so pleased that the viewers are going to get 24 hours between each one, because watching them all together was quite horrific! Amazing, we were just in shock - just brilliant!"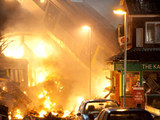 What would cast members who have passed away think about the anniversary episodes if they were here today?Bill:
"There's better technology now, you have to accept that. When they did the train crash way back in the 1960s, we didn't have half the impact. I think they would have been proud - like I said I was - and impressed, because it is impressive. They've got the best teams, the best experts in every field, and Phil Collinson masterminded it. I think everybody from the past would have been really proud that we've got to this point."
How has Corrie lasted 50 years? What was in that first script that secured the show's long-lasting success?Bill:
"In 1960, when we came, there was a new realism sweeping through the theatre - I've said this a lot, it's been quoted a lot… Tony Warren was a man of his moment, who produced on television the realistic kitchen-sink drama
Coronation Street
. It had a colossal impact - never before had ordinary people struggling against adversity been seen in this realistic, gritty way. Tony laid the foundation for that and most [important was] the humour, which I think essentially is a Lancashire thing - to see the humour in serious situations. It's not being funny - it's seeing the humour in serious situations, like Blanche's Alcoholics Anonymous scene. So Tony set the criteria, and as long as we stick with that, it can go on forever."
Was the show's magic obvious from the start?Bill:
"Well, we all realised there was something unusual happening here - there was something really, really good. I mean, I was an arrogant little sod at the time and said, 'I don't want to do it' - I'd just got a lead in a play, things were looking good for me and it was only going to run for six weeks. It was only when it started and we got into it that we realised it was something special and great, and I'm very proud and very lucky to have been in it."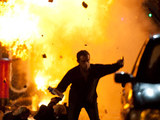 What was it like to film the anniversary episodes?Bill:
"Hard work was the predominant thing! We were working from ten at night until five in the morning for a three-week period, so it was hard work, but you don't mind hard work if it's going to produce something like that. We all knew this year was going to be tough, and it has been. But it has been fruitful and worthwhile."
Antony:
"There was a seven-week period where it was predominantly night shoots, and then there was a three-week period where it was all night shoots. Some poor sods were in every single day. I was one of the lucky ones because I was in The Rovers."
Michael:
"I was one of those ones who was in most nights, but to break the night up, because the canteen was shut, you'd just treat yourself and get a takeaway and sit round the table with the rest of the cast at midnight. It was a great atmosphere - it was a tremendous atmosphere."
Bill:
"There was a tremendous feel that something special was happening."
Phil:
"It was an amazing place to be on those three nights when the tram was in position and the buildings were collapsed. Danny Hargreaves did all of our physical effects - all of the flames and explosions and collapsing. Most of the week is all Danny - it's real fires and it's real rubble collapsing on people. So there was an astonishing atmosphere to stand at the end of Coronation Street and see it on fire and ablaze. A couple of the cast said to me that it wasn't difficult to act some of the more emotional sequences, because it felt very real to be standing there."
How are you feeling over the upcoming live episode?Michael:
"It's a continuation of the last seven weeks - it's just carrying on that excitement, because it is exciting. For any of us who've done live theatre, it's like that - but hopefully in front of about 20 million people! That'll be the difference!"
Jennie:
"I don't have to move very much, I can tell you that - which is quite good! So I'm lucky - I'm fine! But I think my husband has to move quite extensively."
Phil:
"Graeme [Hawley] actually is the actor in more sets than anybody else. We're going to be putting him in a golf buggy and spinning him all over the place! He's all over!"
Could snow affect the live episode?Phil:
"I think that is part of the experience of live. It's why we wanted to do it - and it's why we wanted to do it right in the middle. The first episode [of the week] could have been the live one, actually - it's a brilliant episode, it's beautiful and dramatic with amazing performances. We didn't want to do that - we wanted to put the live episode right in the middle, with fire, explosions, flames, stunts, death and fire engines - just everything we can throw at it. It's amazing, huge and - fingers crossed - astonishing. But you know what, that is what live is all about. If it snows, we'll plough on. If it rains, we'll plough on. If something falls out of the sky, we'll plough on regardless. If any of those things happen, the audience will enjoy it even more. That's the business of live and that's what we're embracing."
Antony:
"There'll be so many people on the street, you won't even see snow! There'll be about 700 people and extras!"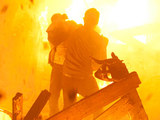 Was any research done into real-life accidents?Phil:
"Yeah, we talked extensively with the emergency services. The emergency services arrive in the middle of Tuesday's episode - a little bit later than they ordinarily would do. There is a reason - there's an RTA which stops them getting through for a little while. That was very deliberate, because this is
Coronation Street
and what we wanted to put at the heart of this was our characters coping with this terrible tragedy. We had fire and police with us throughout the filming, advising us on how they get people out of buildings and how they put fire out. We've also had a massive amount of support from GMPTE, who run the tram system in Manchester. So we've had tremendous support from all over the place."
Monday's first episode opens with a CGI shot showing beyond the viaduct and wider Weatherfield - how did that come about?Phil:
"Obviously the shot develops into, for the first time, a glimpse of Weatherfield and beyond the beginning and end of Coronation Street and Rosamund Street. So when we saw that shot for the first time, it just felt very epic and brilliant, and it just felt like a really lovely way of starting the week - saying to the world, 'Here's a big shot, it's going to be a little bit unusual this week and a bit different'. So that was the reasoning behind that. We didn't originally plan to do that, but when we saw the shot, we thought that'd be a beautiful thing to do."
Is this the first time that we've seen such a shot?Phil:
"It is, I believe so. And then as we go on in the week, we look the other way as well and we see even broader Weatherfield. Careful viewers, if they pause their TV afterwards, will be able to see the Red Rec and all sorts of landmarks that have gone in there. It's been created with a lot of love and reference to a lot of landmarks that we've spoken of for many years."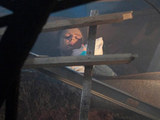 Molly and baby Jack end up trapped in rubble at the Corner Shop - how did you film those scenes with the baby?Phil:
"Obviously the safety of the baby was absolutely paramount. A lot of the sequences you will see were filmed with a really brilliant, clever, absolutely terrifying doll! It's absolutely, terribly realistic - it moves and everything! Then, any scenes where you see the baby moving in Molly's arms were actually done on a specially-built little section of set. You'll see all of it in close-up - it looks like they're buried in the middle of that, but they're actually not - she's sat very comfortably with the baby. So actually the baby just sits there in her arms. It will look like the baby is buried in the middle of that and he gets quite distressed - very deliberately so, because it has to be realistic, this. The plot is all about Molly and Jack and fighting to get them out of where they're trapped, so we wanted to do it justice. It's sometimes quite difficult to watch, but the baby is very, very safe."
Does this week of episodes set the benchmark for future episodes?Phil:
"I hope so, that would be nice. I think the viewers will have to tell us, really. I mean,
Coronation Street
has always done big stunts - they collapsed a house right back in 1965, and then in '67 a train came off the viaduct. A lorry ran into The Rovers, The Rovers has burned down - there's a million and one stunts. It's always had that in its DNA - it's always had times where it's event television. I think it's a fantastic week of television. I hope it's a benchmark - we're not doing it again! [laughs] Someone else can do it!"
Bill:
"One thing that impressed me is that often when you have a big event, the event dominates, but with this, it doesn't dominate. The characters are just as strong and everything works together. I can't tell you what a skill it needs from the producer, the writers, the technicians and everybody to get that balance of the individuals and the big event, all merging into one. It's an incredible achievement."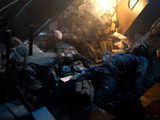 How much did it cost to film the tram crash?Phil:
"It cost a lot of money… We had to ask ITV for an awful lot of money, and they said yes. When they said yes, I wished I'd asked for more! [laughs] But there you go, I'll learn next time! Not that there'll be a next time!"
Do soaps need big events like this to capture the public's attention in the current TV climate?Phil:
"I think that television has changed. Programmes like
Coronation Street
and dramas have to stand up against massive pieces of event television like
Strictly
,
X Factor
and the celebrity jungle - events that you just come to because it's special, different and unusual. We had to do something like that to mark this [anniversary] really - we had to do something extraordinary. When soaps and drama push the boat out now, it has to push it out really far - you can't hold back anymore. Viewers go to the cinema and they see all kinds of special effects and 3D, which makes you feel like you're right in the middle of the movie. I think the days are gone where television drama can sit back and leave it to your imagination - I think that's not what we can do anymore. We have to compete against those great big juggernauts now, and I think that's what we've done."
Let me know your thoughts on the above using the usual form below!