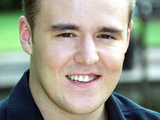 A report published today has claimed that
Coronation Street
's Tyrone Dobbs and Julie Carp are about to become a couple.
The story in question says that Julie seduces Tyrone after arriving at his house with a casserole - treating him to some food and alcohol before things get steamy between the pair.
It's even been suggested that Tyrone will marry Julie before the year is over as their feelings become stronger.
However, before fans get too excited about a Tyrone and Julie romance story, Corrie sources have told
DS
this morning that there's not much truth to this particular rumour.
We will see Julie try to get close to Tyrone later this month after she decides to sort his life out following his recent personal problems.
That all ends rather quickly, though, as Tyrone ends up having to tell her to back off later that week.
Stranger things have happened in Weatherfield, but I'm not holding my breath for a Julie and Tyrone wedding just yet…
Let me know your thoughts using the usual form below!