Former
Hollyoaks
star
Chris Fountain
makes his
Coronation Street
debut towards the end of the month, and his character Tommy Duckworth ruffles feathers on the cobbles from the very beginning.
Arriving at the garage looking for Tyrone, Tommy immediately ends up in an argument with a testy Kevin, who's not in the mood for visitors amid his ongoing divorce wars with Sally. Shortly afterwards, a cocky Tommy infuriates Kevin again by flirting with Sophie and Sian and expressing disappointment when he realises they're lesbians.
When Tommy finally comes face-to-face with Tyrone, he explains that he's been away backpacking and has arrived in Weatherfield to see his grandfather Jack. Taking him back to the house, Tyrone then faces the tricky task of telling Tommy that Jack has died, before offering him a place to stay for the time being.
As Tommy settles in over the next few days, he's bowled over when he meets Tina McIntyre and invites her back to the house for a drink.
Feeling isolated as Graeme and Xin spend more time together perfecting their wedding scam, Tina agrees to join Tommy and Tyrone for the evening. But will she fall for confident charmer Tommy?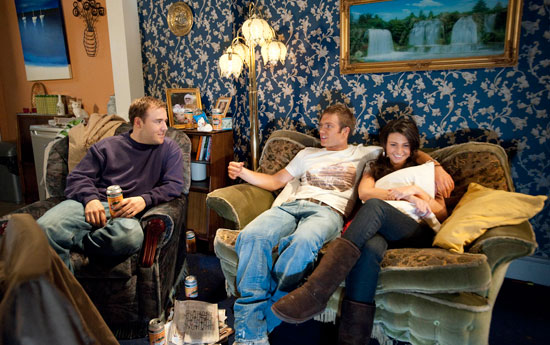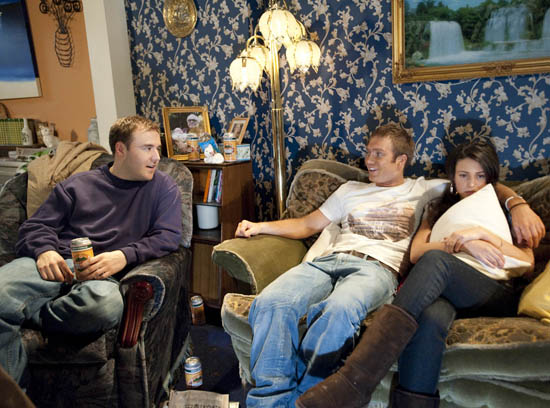 Tommy Duckworth - last seen in 2000 with Joseph Aston in the part - makes his return on Monday, March 28. Tommy and Tina's scenes air on Thursday, March 31 at 8.30pm on ITV1.
> Chris Fountain joins Coronation Street
> Chris Fountain: 'Tommy isn't a bad boy'
Over on
EastEnders
, just as it looks like Kat and Alfie's marriage is over for good, Michael and Roxy will hatch a plan to reunite the strained pair.
Deciding that a secret supper for six at the boxing club could be the ideal way to get the couple back on speaking terms, Michael and Roxy start eagerly planning the evening - putting themselves on the guest list alongside Kat, Alfie, Jack and Ronnie.
At first, Ronnie is reluctant to accept the invite, but a frustrated Jack gets tough with his erratic wife - telling her firmly that he wants her to be there. Later, as everyone attends as planned, the atmosphere is tense until Kat and Alfie start sparring like the old days - but it doesn't last for long…
A Walford insider said: "Michael is determined to get Kat and Alfie back together. He still feels guilty for what happened between him and Kat and he knows that they belong together.
"There is tension at the meal as everyone waits to see if the plan will work. Ronnie doesn't want to be there and eventually the pressure of the evening gets too much for her and she leaves, making Jack suspicious."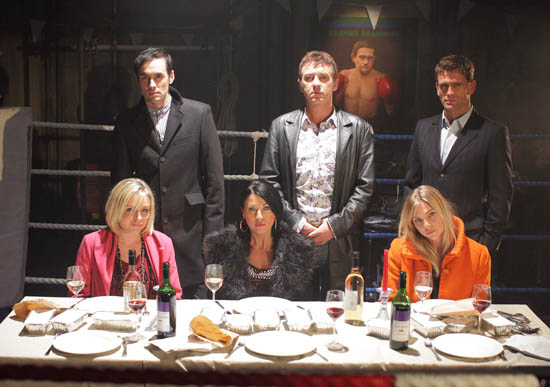 These scenes air on Monday, March 28 at 8pm on BBC One.
Coming up in
Emmerdale
, this is the moment that superbitch Kelly Windsor drops a bombshell in the village - introducing Bob and Marlon to her young son Elliot!
Bob is left stunned by her revelation and when he asks Kelly how long she and Elliot will be sticking around for, she declines to give a firm answer.
Later, Kelly and Jimmy have another secret meeting, and she leaves him reeling by explaining that Elliot is his son. Suddenly, the mystery over Jimmy's repeated trips to Peterborough has taken a shocking twist.
What will Nicola and Carl say when they hear about Kelly's secret?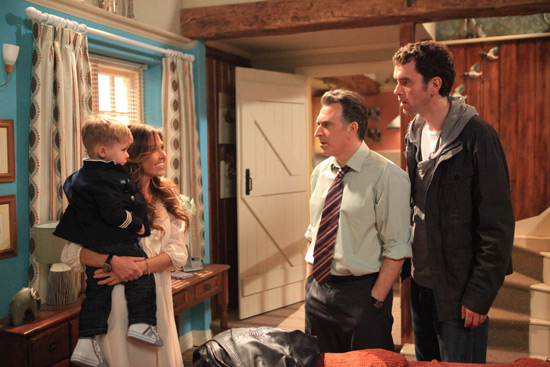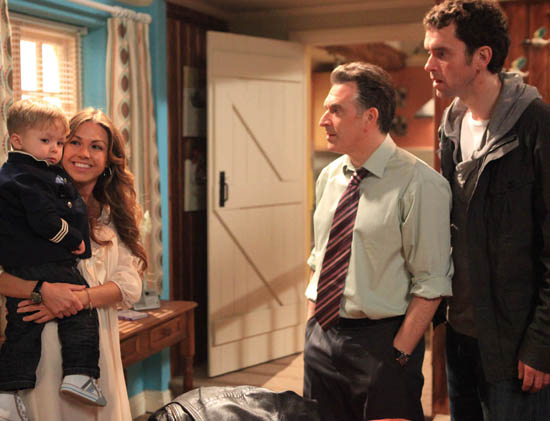 These scenes air on Monday, March 28 at 7pm on ITV1.
> Dales star discusses new Jimmy shock
Finally,
Hollyoaks
' biggest story of the year so far reaches its conclusion at the end of the month as Gilly's rape trial plays out in a special week of episodes.
As Jacqui and Gilly give their evidence in court, both give compelling testimony as we relive their Valentine's Day encounter from their two different perspectives. When Jacqui speaks, she describes how Gilly raped her, while Gilly argues that it was nothing more than two consenting adults taking comfort in each other's arms.
Tom and Rhys are among those who appear as witnesses in the case. There are also twists in store as a face from Gilly's past puts his case into jeopardy, while Jacqui will also be confronted by her history when another witness makes her look like a liar.
The decision over whether Gilly is guilty or not guilty is being made by a real-life 'jury' consisting of 12 ordinary members of the public. This process will be fully documented online, encouraging viewers to engage with the drama and discuss the complex issue at hand.
As the trial reaches its conclusion, is Gilly facing a long spell behind bars, or will he be cleared?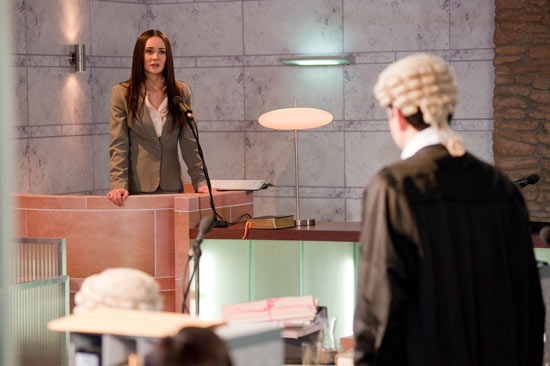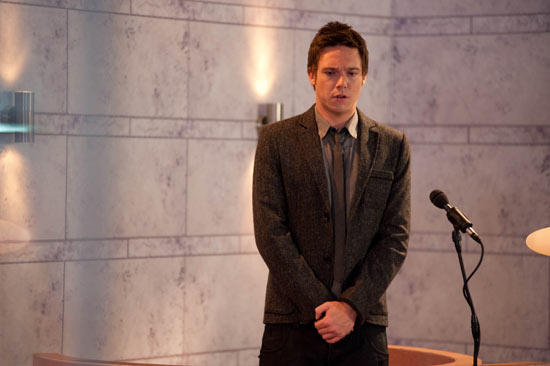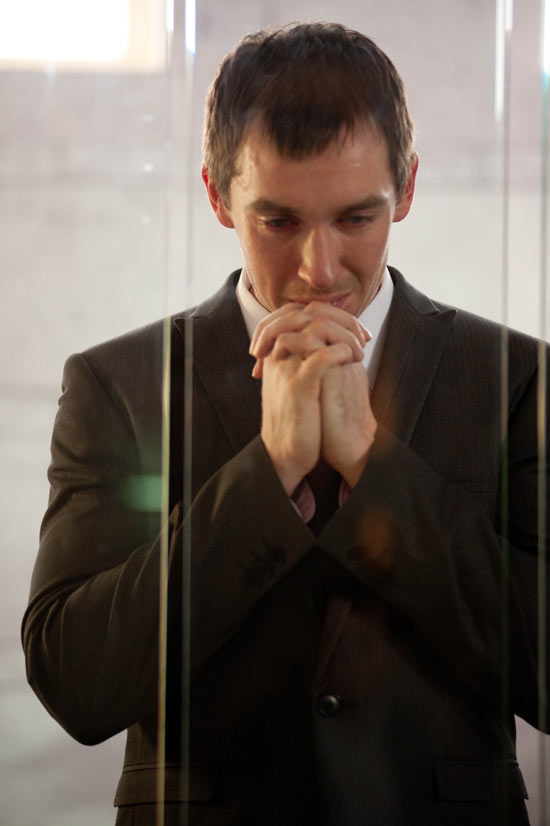 Gilly's trial begins on Monday, March 28 at 6.30pm on Channel 4, concluding on screen on Friday, April 1.
> Public jury for Hollyoaks rape trial> Click here to read our interview with Andrew Moss, who plays RhysLet me know your thoughts on all the latest soap storylines using the form below!