Coronation Street
features another catfight at The Rovers later this month as Tina and Kylie go head-to-head in a vicious clash.
As Xin prepares to leave Weatherfield in the coming days, things seem to be looking up for Tina as she prepares to get her life back on track, but she's in for a nasty shock when Graeme finally admits that he's fallen for his wife and the marriage is no longer a sham.
Tina is left heartbroken by Graeme and Xin's betrayal but her sadness soon turns to anger as she vows to get her revenge by reporting them to immigration over their deception.
At The Rovers, Kylie winds Tina up over the situation, but it's clear that she's pushed the barmaid's buttons at the wrong moment as Tina lashes out. The pair end up brawling at the pub as Steve and David try to break them up.
Who'll come out on top between Tina and Kylie? And will Tina really go through with her threat to report Graeme to the authorities?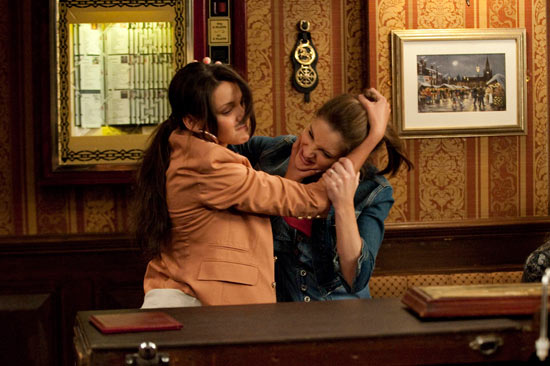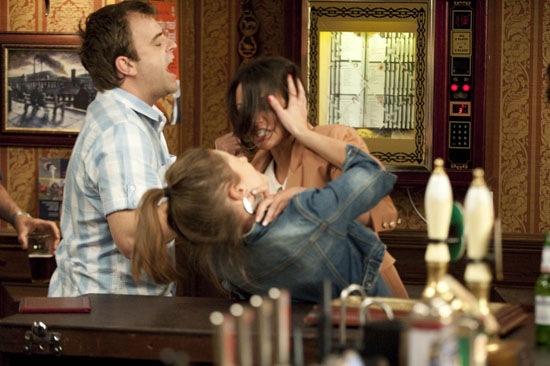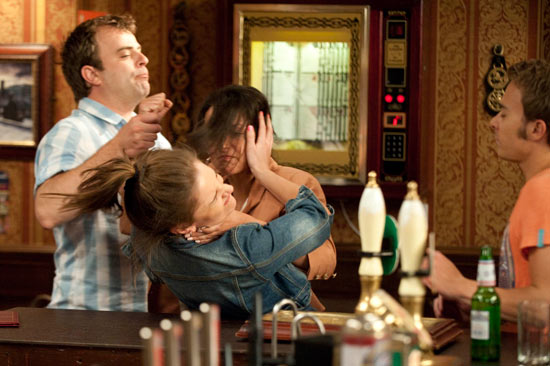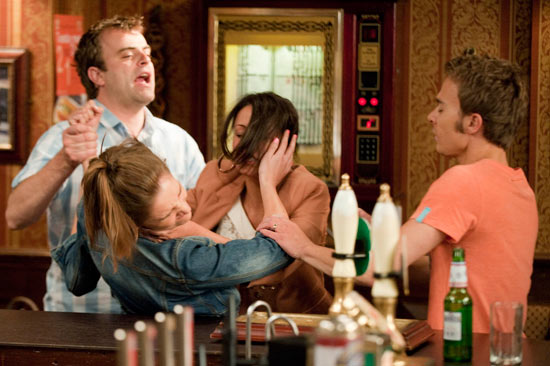 These scenes air on Monday, June 13 at 7.30pm on ITV1.
> Corrie's Graeme to make shock Xin decision
> Craig Gazey films Coronation Street exit
Over on
EastEnders
, Max will soon make the surprise decision to pop the question to Vanessa, but Tanya is the only woman on his mind at his engagement party.
As the Jessops arrive for the celebration, Greg announces that he and Tanya have started trying for a baby, but Max can sense that his ex-wife isn't entirely comfortable with the idea.
Soon afterwards, Max makes a speech and presents Vanessa with a diamond engagement ring, leaving her delighted. However, as Tanya watches on, it's clear that she's feeling jealous.
Tanya and Max later have a moment alone and Max teases his former partner about her jealousy. Tanya fiercely insists that she has nothing to be jealous about, but Max goads her by declaring that he knows she can't stand the idea of him marrying someone else.
A Walford source commented: "Max deliberately pulls out all the stops to make Tanya jealous at the party. Vanessa is oblivious to this and thinks that Max has finally put Tanya behind him.
"When Max senses that Tanya isn't completely comfortable with the idea of starting a family with Greg, he can't resist rubbing his engagement in Tanya's face, hoping to get a reaction."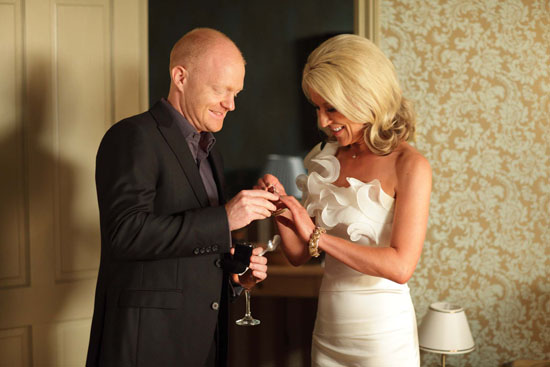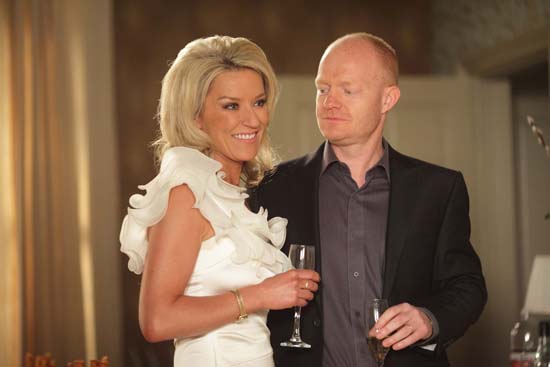 These scenes air on Friday, June 17 at 8pm on BBC One.
> EastEnders Tanya 'to cheat on Greg with Max'
> EastEnders boss confirms affair plot rumours
> Zöe Lucker: 'More to come from Vanessa'
> EastEnders Vanessa tipped for "exciting" plot
Meanwhile, the end of the Kings' marriage draws ever closer on
Emmerdale
as Jimmy receives divorce papers in the post.
Catching up with Nicola at the pub later, Jimmy lets his estranged wife know that he's received the papers but makes it clear that he's prepared to fight in the divorce.
Annoyed over Nicola's attempts to stop him from seeing Angelica, Jimmy persuades a sympathetic Rodney to help him spend time with the youngster in secret.
With Jimmy determined to secure the access to Angelica that he deserves, will Nicola live to regret her attempts to cut him off? And is it really the end for the couple's relationship?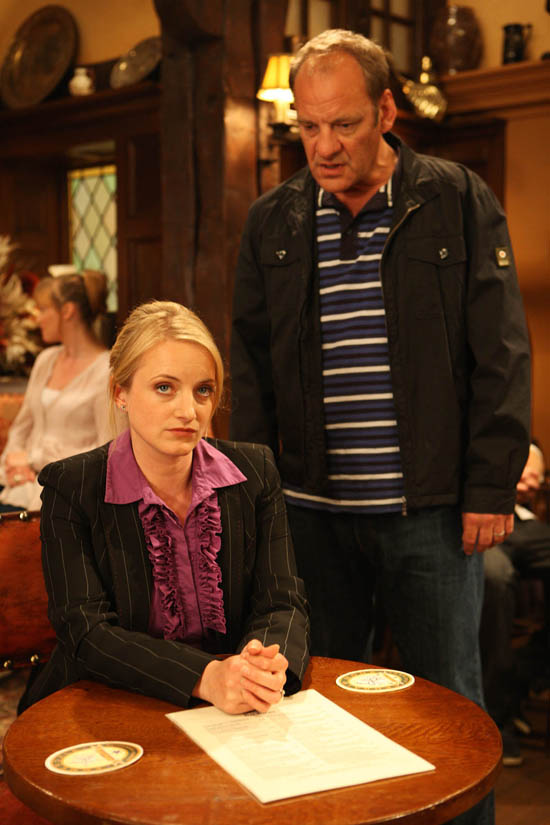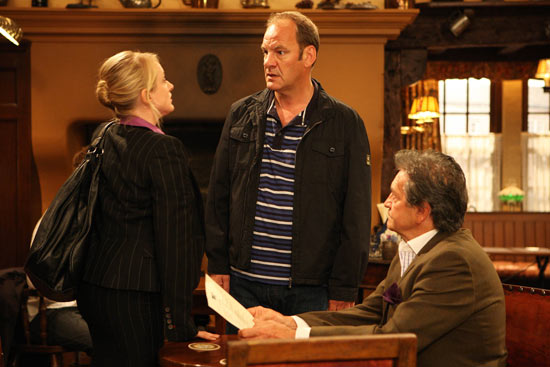 These scenes air on Monday, June 13 at 7pm on ITV1.
Coming up in
Hollyoaks
, another confrontation in the McQueen family lies ahead as Jacqui finds out the shocking truth about Mercedes's 'pregnancy'.
Appalled that her sister has made the whole thing up and is now planning to fake a miscarriage, Jacqui gives Mercedes a piece of her mind and urges her to tell Riley the truth.
The love cheat doesn't listen to the advice, though, and things get worse as Jacqui puts two and two together when she witnesses the tension between Mercedes and Carl.
Later, a conversation with Carl provides Jacqui with all the proof she needs of exactly what Mercedes has been up to. Another furious confrontation between the two sisters follows, but will Jacqui keep quiet or expose Mercedes's affair with Carl?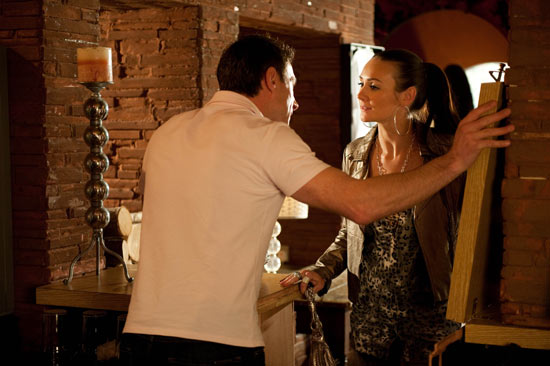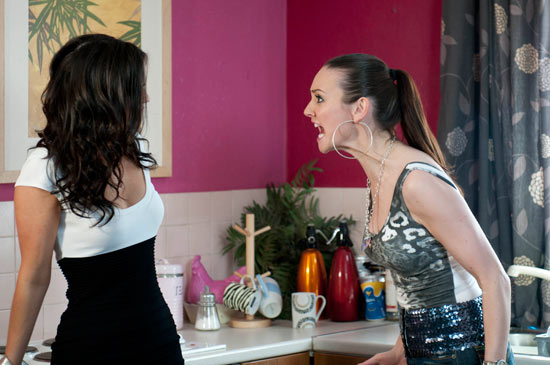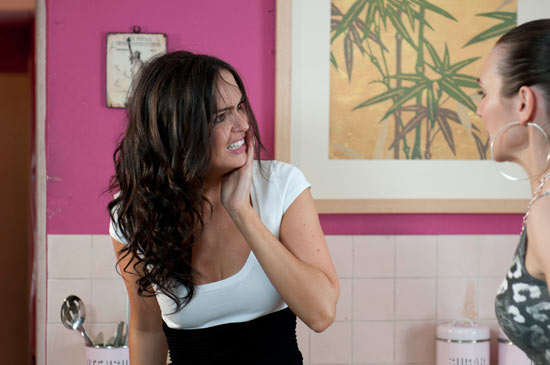 These scenes air on Wednesday, June 15 and Thursday, June 16 at 6.30pm on Channel 4.
Finally,
Coronation Street
was the winner of last week's poll as
46.2%
of you picked out Graeme's romantic dilemma coming to a head as the most exciting storyline.
Hollyoaks
took second place with
29.9%
for Bart's confusion over his love life, while
EastEnders
came third with
23.9%
opting for Max's attempts to break up Tanya and Greg.
Don't forget to have your say on the latest batch of storylines with the poll below. Which one are you most looking forward to?
Share your thoughts using the usual box below!