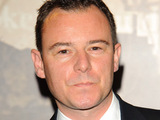 Coronation Street
star
Andrew Lancel
recently had a chat with
Digital Spy
about Frank and Carla's rape storyline, which begins next week.
For all of Andrew's thoughts on the dark plot,
head over to our main interview with the actor
.
Here, though,
Soap Scoop
presents some extra bonus bits from Andrew with more chat about the story, life at
Coronation Street
in general and his previous roles.
Because of the nature of this storyline, do you ever worry that a minority of viewers could confuse you with your character?
"I only worry about it when people say that to me! I don't mean this arrogantly, but I've been on telly for a long time - particularly on
The Bill
, where I was on screen every week for years. I think that people identify me as someone who's on TV, so I think this role might have perhaps been a bit harder for someone who's not done a lot of telly. But I can't see people being daft enough to think that I'm Frank. I look like him and sound like him, but that's it!"
Are you enjoying working with Gwen Taylor, who's playing Frank's mum?
"Yes! I've had a lot of great actresses playing my mums over the years like Julie Walters and Anita Dobson, and now I've got Gwen Taylor - it's great!"
How have you found life at Coronation Street in general?
"It's been a joy. I've been here nearly a year now, I've done hundreds of days - and I've not had a day that I haven't enjoyed. It's been tiring, especially in the past couple of months with this rape storyline - and on the particular day of filming those scenes, I was exhausted and it was very emotional. Who wouldn't feel like that? But it's a buzz working on Corrie - I've had a gift of a part and a gift of a job."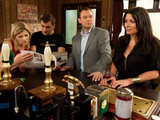 You were a fan of Corrie before you joined the show, weren't you?
"Yes, working with actors like Jane Danson, I still have to count to five because I'm a fan. I actually think that being such a big fan of the show has helped with this part, because it's very important to respect what you do and I have enormous respect for these people. They're doing it year in, year out.
"For example, Chris Gascoyne has been playing his part faultlessly for years - always doing his homework, always doing his research. It's been a joy working with all of them, without exception. But I'm going to have to pedestal Ali, because of the material we've been doing together."
You've often seemed to portray characters with a harder edge. Do you find those roles more enjoyable to play?
"I've never tried to seek characters who have controversy attached to them. What happened was that, when I was 23, I was cast in
Cardiac Arrest
, which turned out to be a massively controversial programme about the NHS. And then the characters that I was asked to play afterwards always seemed to have a bit of an edge to them.
"Russell T Davies asked me to do
Queer as Folk
, I did
City Central
and I was the journalist in
Hillsborough
. A lot of the parts that I've played have been tinged with controversy. I've not necessarily sought it, but it's made it a really interesting journey.
"Even on
Bad Girls
I was playing a bully, and on
The Bill
, Manson was a controversial character who was often associated with controversial stories. I've been very lucky with my roles, and none more so than Frank."
Away from Coronation Street, you've been doing some one-man theatre shows recently. How have they been going?
"They've been going great! I've always done gigs and concerts.
Coronation Street
is my day job, but I'm fortunate enough to have the occasional night job - and noticeably more people seem to be coming now thanks to Frank! It's been going good and I'm enjoying it."
> Coronation Street's dark Carla and Frank storyline: Pictures
> Read more Coronation Street spoilers and news