Coronation Street
's Carla Connor and Leanne Barlow are at the centre of dramatic scenes later this month as they have a furious showdown at Underworld.
As Leanne (
Jane Danson
) returns to Weatherfield in the days ahead, she intends to pick up a few of her belongings before leaving again. However, she's heartbroken when she comes face-to-face with Simon - still seeing herself as the youngster's mum.
When Leanne hears how Simon has been rebelling in her absence, she tells the schoolboy that he needs to start behaving for Peter and Carla (Alison King). However, Simon then tells Leanne a shocking lie about Carla - claiming that she has been getting drunk and hitting him.
Heading straight over to the factory, a furious Leanne launches herself at Carla as an amused Frank Foster watches on.
In the end, the Underworld girls have to separate the pair, but as Leanne leaves, she warns Carla to stay away from Simon. How will Leanne feel when she discovers Simon was lying?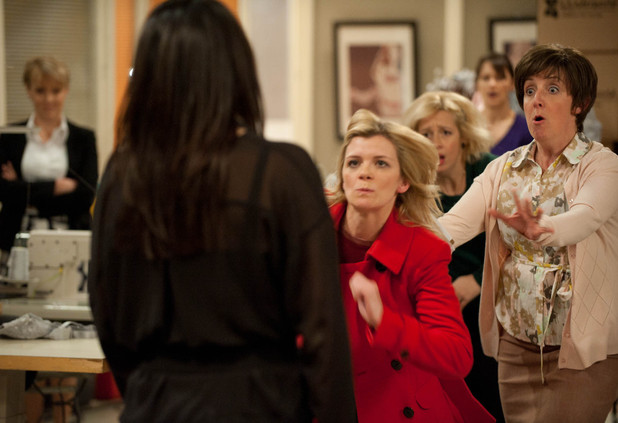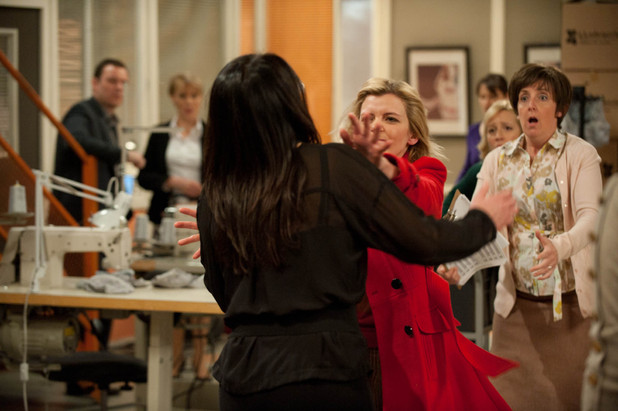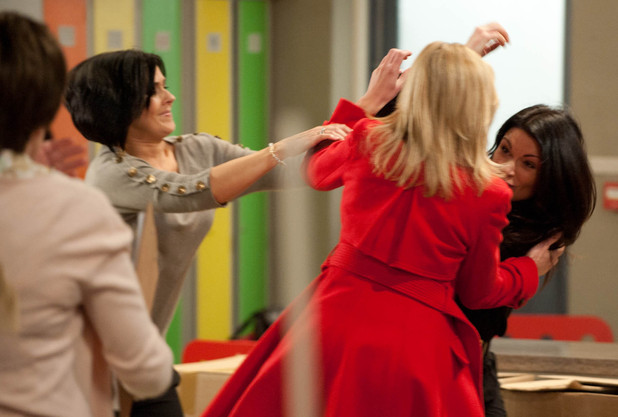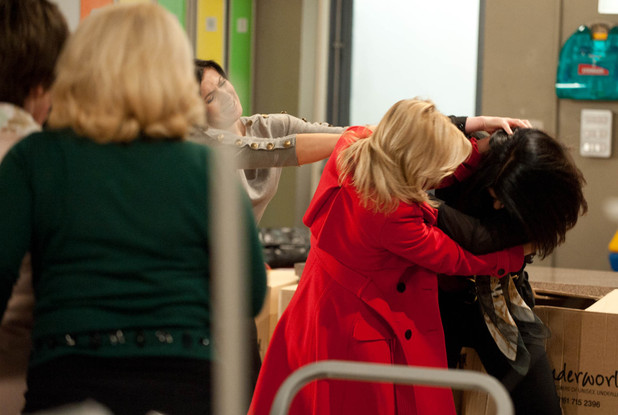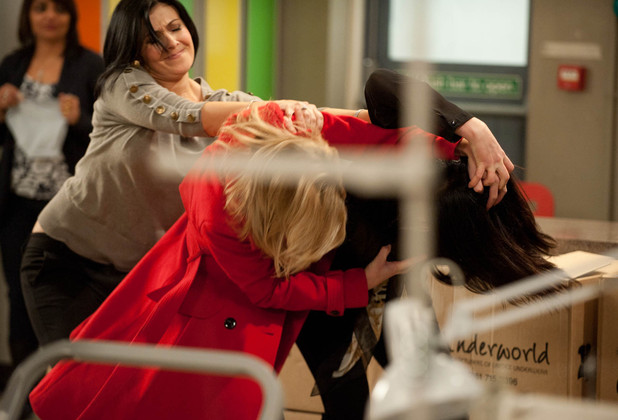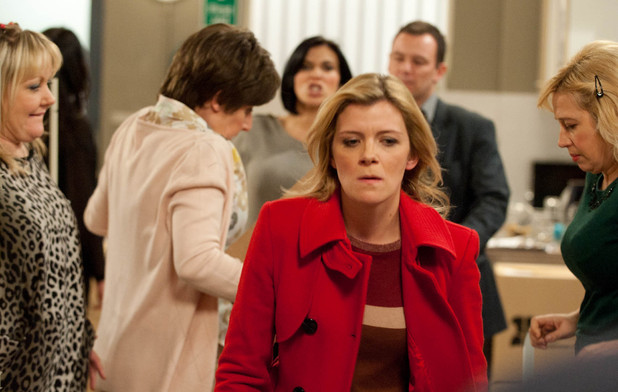 Coronation Street
airs these scenes on Monday, February 27 at 8.30pm on ITV1.
> Coronation Street Jane Danson: 'Leanne will fight for Simon'
> Read more Coronation Street spoilers and news
Over on
EastEnders
, Mandy Salter gets a shock next month as her mother arrives in Walford unexpectedly.
Mandy's (Nicola Stapleton) war with Lucy Beale (Hetti Bywater) continues in the coming days, reaching a climax when her future stepdaughter accuses her of having an affair.
During an argument at The Vic, Lucy defends her allegations in front of Ian (Adam Woodyatt) - telling Mandy that she has been exchanging text messages with her mystery man 'L Stevens'.
Lucy warns Mandy that she can't deny her infidelity any longer, as she has arranged for 'L' to visit the pub.
However, Lucy is left stunned when she turns around and sees that 'L' is not a secret lover - it's Mandy's mum Lorraine (Victoria Alcock)! How will Mandy react to her arrival?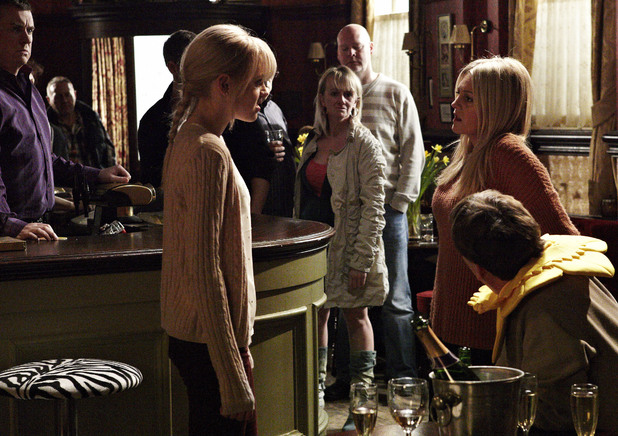 EastEnders
airs these scenes on Thursday, March 1 at 7.30pm on BBC One.
> EastEnders return for Mandy Salter's mother
> EastEnders is more enjoyable now, says Nicola Stapleton
> Read more EastEnders spoilers and news
Coming up in
Emmerdale
, Cameron Murray resolves to dump Debbie Dingle as the stress of the saviour sibling plan becomes too much to bear.
Debbie (Charley Webb) tries desperately to get her relationship with Cameron (Dominic Power) back on track in the coming days, booking them a meal and room at the B&B.
However, despite Debbie's best efforts, the couple remain distant with each other and things get worse when Andy's constant presence in their lives continues to make the situation more difficult.
Raging over Debbie and Andy, Cameron pays a visit to the pub and takes his temper out on Marlon. Chas (Lucy Pargeter) is furious over his antics and orders Cameron through to the back room to calm down.
Soon afterwards, Chas is thrown when there's a slight spark of chemistry between her and Cameron, and she's shocked further when Cameron says it's over with Debbie. Will Chas act on her feelings for Cameron?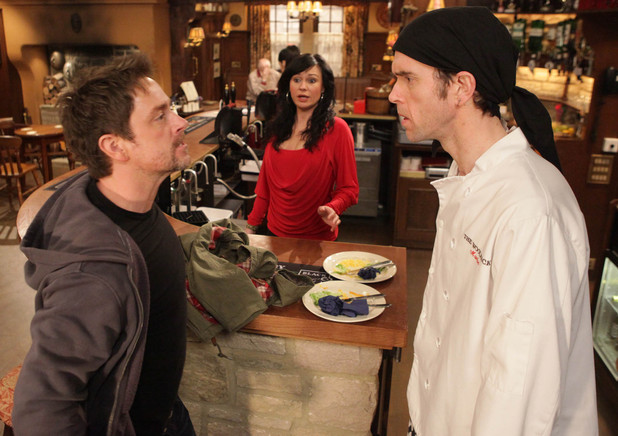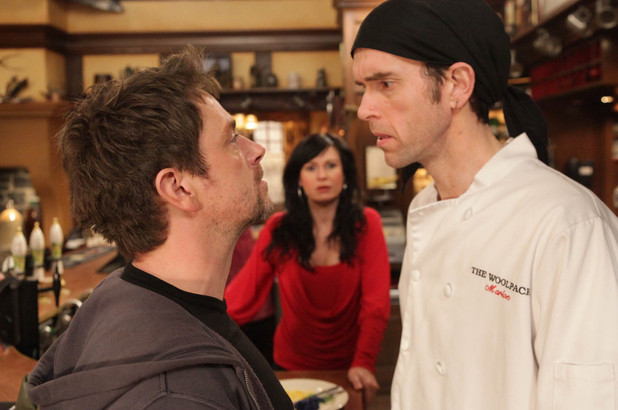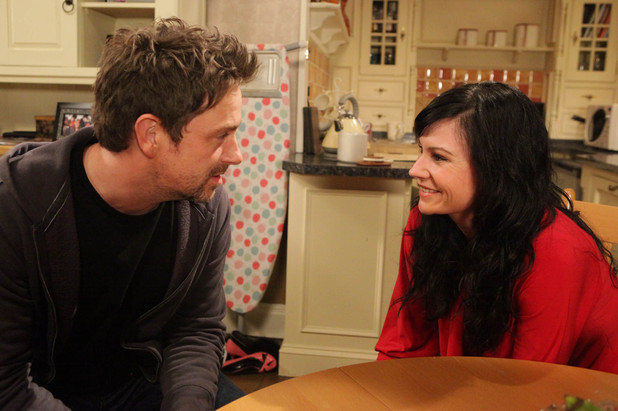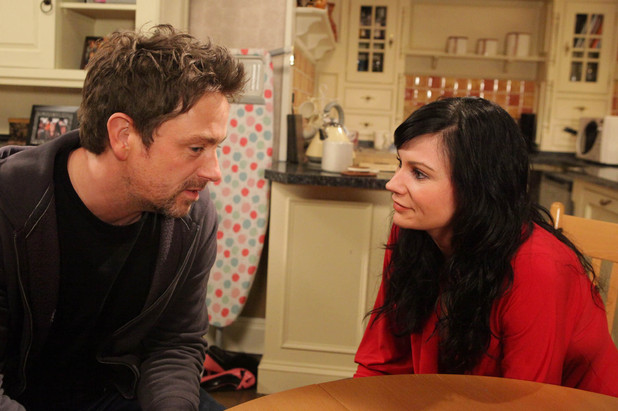 Emmerdale
airs these scenes on Thursday, March 1 at 7pm on ITV1.
> Emmerdale Lucy Pargeter promises Chas Dingle romance plots
> Emmerdale Chas, Carl should reunite, says Lucy Pargeter
> Read more Emmerdale spoilers and news
Meanwhile,
Hollyoaks
' McQueen family will soon turn against Mercedes as her wild behaviour continues.
When Jacqui (Claire Cooper) sees how much her sister is struggling without ex-fiancé Riley (Rob Norbury) and their baby son Bobby around, she decides to help fix things by tracking down the footballer.
Heading out to see Riley, Jacqui asks husband Rhys to keep an eye on Mercedes (Jennifer Metcalfe) while she's gone. However, Mercedes's antics take another shocking twist when she tries to kiss Rhys.
Rhys later tells his fiery wife what happened, so Jacqui storms round to the McQueen house to take Mercedes to task. The rest of the family soon join in, with even mild-mannered Carmel giving her some home truths.
When Riley later turns up, Mercedes hopes it will be a turning point and begs him to take her back. But can Riley forgive and forget?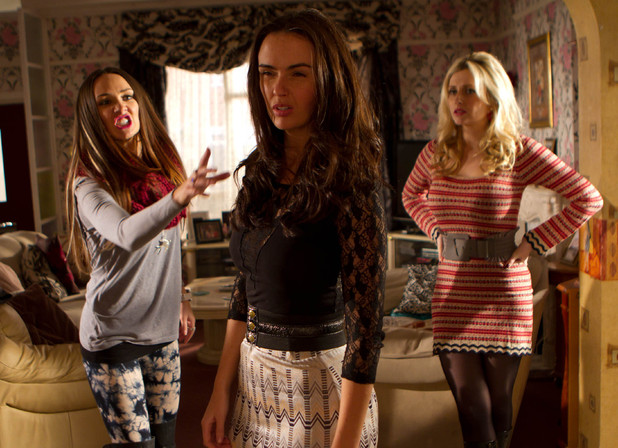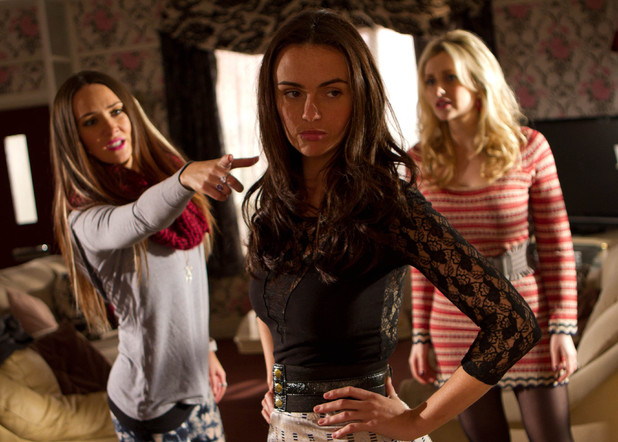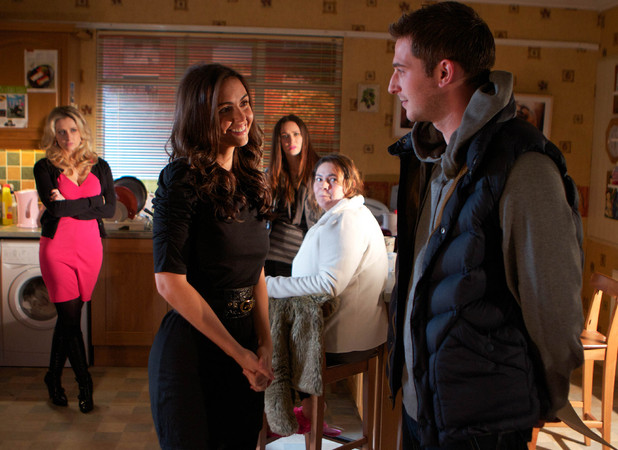 Hollyoaks
airs these scenes on Tuesday, February 28 and Wednesday, February 29 at 6.30pm on Channel 4.
> Hollyoaks' Rob Norbury reveals Riley Costello return plot
> Hollyoaks' Claire Cooper: 'The McQueens reach breaking point'
> Read more Hollyoaks spoilers and news
Over on
Doctors
, Daniel and Zara find themselves at odds in the aftermath of baby Joe's arrival.
Daniel (Matthew Chambers) is left stunned in the coming days when Zara (Elisabeth Dermot Walsh) informs him that she is already looking for childminders, as she wants to head back to work in the not-too-distant future.
Zara gets defensive when Daniel expresses disbelief that she'd want to leave Joe so soon, but ignoring his concerns, she heads to The Mill to ask Julia about returning in a few weeks' time on a part-time basis.
When Daniel finds out what she's done, the couple have a huge row and Zara is left feeling hurt. Can they reach a resolution?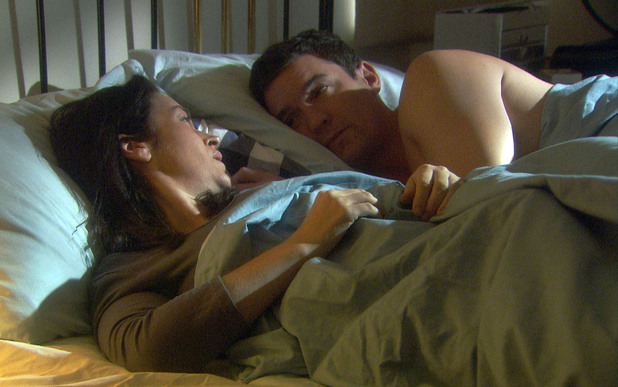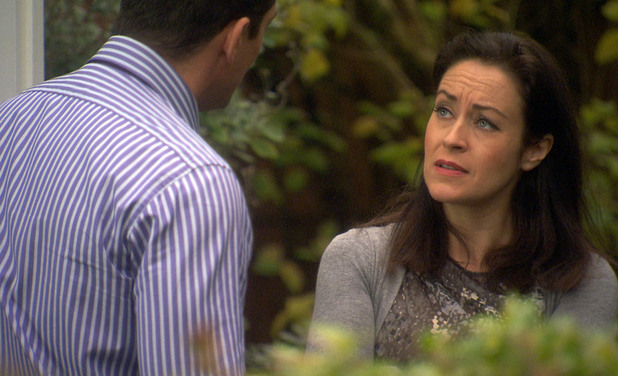 Doctors
airs these scenes on Wednesday, February 29 at 1.45pm on BBC One.
> Read more Doctors spoilers and news
Coronation Street
topped our storyline poll last week as
28.4%
of you chose Carla's latest troubles with Frank as the best plot of the week.
Hollyoaks
came second with
24.1%
for Mercedes setting her sights on Ally, while
Emmerdale
managed third with
23.1%
for Megan Macey's arrival.
EastEnders
followed in fourth with
20.1%
for Anthony's romance with Amira, while
Doctors
had
4.3%
for the latest developments in Heston and Marina's domestic abuse storyline.
Don't forget to vote in the poll below to let us know which story sounds best this week!