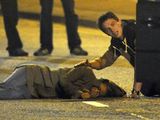 Coronation Street
stars
Brooke Vincent
and Sol Heras filmed dramatic road accident scenes out on location last night (September 4).
As first reported last week, Vincent's character Sophie Webster
is to be left seriously injured when a night out goes horribly wrong
in an upcoming episode.
Paparazzi photographers were present yesterday to capture the horrifying moment that Sophie is hit by a car.
While firm storyline details have yet to be confirmed, the pictures appear to show that Sophie tries to push a drugged-up Ryan Connor out of the way of an oncoming vehicle, as his wild behaviour puts him in danger.
Sophie's heroic act keeps Ryan safe, but she is not so fortunate as the car knocks her over…
Writing on
Twitter
earlier today, Vincent commented: "Just got in from my nightshoot!! Had an amazing time filming, especially the stunts and tune in everyone this ones going to be a Gooden.. (sic)"
Below,
Soap Scoop
presents a gallery of pictures from the on-location shoot.