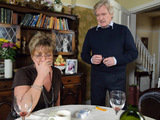 As Ken and Deirdre return from Portugal, they're grateful to hear that Peter's started making funeral arrangements.
Later, Ken finds a letter in Blanche's room, titled 'In the event of my death'. Sharing his discovery, Deirdre's furious at him for going through her mother's belongings.
Meanwhile, as Norris recounts the story of his kidnap to anyone who'll listen, he predicts that Mary's now in custody. However, when he hears that she's been released without charge, he panics. Will Mary stay away?
Becky's nervous about the impending visit from the social worker, so Claire offers to help with a dry run. However, she takes her role far too seriously and Becky finds herself more terrified than she was before.
Elsewhere, Peter and Tyrone join Trevor's secret World Cup party; and Kirk wants to go on another date with Izzy.