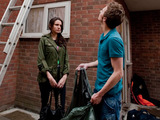 As David watches Tina collect her scattered clothes off the Street, he spies an opportunity to meddle.
Holding out an apparent olive branch, he offers to have a chat with Jason in an attempt to talk him around to the idea of her and Graeme being a couple. However, while alone with Jason, David reveals his plan to split them up.
David sets about placing doubts in Graeme's mind that Tina's on the rebound, while questioning Tina about the wisdom of wading into a new relationship so soon after Jason.
Will David's evil plan work?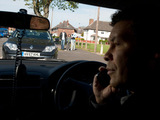 Meanwhile, Steve's pleased with himself as he delivers his rehearsed speech at the adoption meeting but it's Becky and Eddie who impress as they speak from the heart. Eddie talks with pride about Gary serving in the army, while Becky describes her cuddly toy - her only constant in life.
Elsewhere, Lloyd suspects that Cheryl isn't all that happy with her life; with her job looking fairly safe, Fiz puts down a deposit on a holiday; when Lloyd witnesses Chris's close bond with Cheryl's son Russ, it's a stark reminder of her commitments; and Eileen warns Lloyd not to become too involved with Cheryl.